HEADLINES:

Online Training Changing to Instant Access

Catch up on Module 1 for just £100 or FREE when you book the full course (discount codes below)
the most rewarding learning curve
Every new creative adventure I embark upon teaches me so much about myself and The Wild Dyery has been perhaps my biggest challenge and most rewarding learning curve so far.
During 2016, creative inspiration seized me and I began the huge task of writing a 12 week online training that would give people a comprehensive introduction to natural dyeing. Two years after launching in 2017, I've only recently had time to take stock of what a huge download of ideas I had! After reviewing what I created, I was quite shocked to realise that it amounted to over 100K words, 60 video tutorials and 480 illustrations and photographs!
The past two years have been a happy whirlwind of web development, student support and social media promotions. I've had hundreds of students in over 30 countries worldwide who have written me such incredibly heartfelt, appreciative feedback. It really helped me understand how needed this work was and made the task so very worthwhile.

"This course has been the best thing I have done in a long while. The content far surpassed anything I could have anticipated.

My understanding of the historical aspect of textile dyeing has expanded and my desire to work in a sustainable way grown.

 

Thank you for a wonderful summer Justine, all your work that put this course together is so appreciated.

 

I am particularly appreciative of the professionalism you have consistently brought to the whole subject of eco printing, both practically and knowledgeably." – Bunchy Teresa Casey

However, now into the third run of this yearly training, I have the gift hindsight and am making some important changes.
The Wild Dyery has grown so fast that I've had to make a choice whether to start delegating to employed help or alter what I offer so I can remain a 'one woman band'. Apart from my studio assistant, Bella, who makes the indigo dye kits, for now, I've chosen the latter option (I've yet to master the art of delegation but perhaps in future!)
instant access to my online workshops
'Natural Fabric Dyeing: Colour, Print and Pattern' is changing from a semi-live event that starts and finishes on specific dates once per year. Previously, students could only join at certain times and then waited to work together with the support of other students and myself. Whilst this has been great for so many, including me, it's also meant I've been 'on-call' 24-7 during live dates and handling an enormous amount of admin in-between times. I've also had to disappoint so many people who just wanted to sign up and work through the classes on their own, when they felt like it. Technology has begun dominating my life to the exclusion of the new textile work I've been dreaming up and when I get that calling, there's just no silencing it! There's still time if you'd like to work with my support this summer and autumn though with some great discounts! (See below…)
So, I'm redeveloping, streamlining and re-launching my three modules during the next few months, along with another new offering which will be a beginner's starter guide. I'm moving to a completely new platform which means transferring everything by hand myself (I do love a challenge!) but it's going to be so great to be able to keep offering this tuition whilst continuing my own professional development which I know will inspire further workshops and offerings in future.
4th birthday THANK YOU! sale
May is my favourite month. It's also the month I started The Wild Dyery 4 years ago. So, as I start this new chapter with easier access workshops and an exciting studio coming soon, I'd like to say a big thank you to those of you who've supported my work so far with a HUGE sale. It will only run during the first week of May so do consider your options below as there are hundreds of £££ being discounted for a short period of time.
module 1: colour *SAVE £145
There's still over 3 months access to this module that ran live last February so for anyone who'd like to work through the tutorials independently, I'm offering 50% off the early bird rate. Buy this now using the discount code: MAY1 and pay just £100 for access until 8th August 2019 OR get this module FREE when you join all three modules (see below.) Find out more about the core skills in natural dyeing taught during this first module here.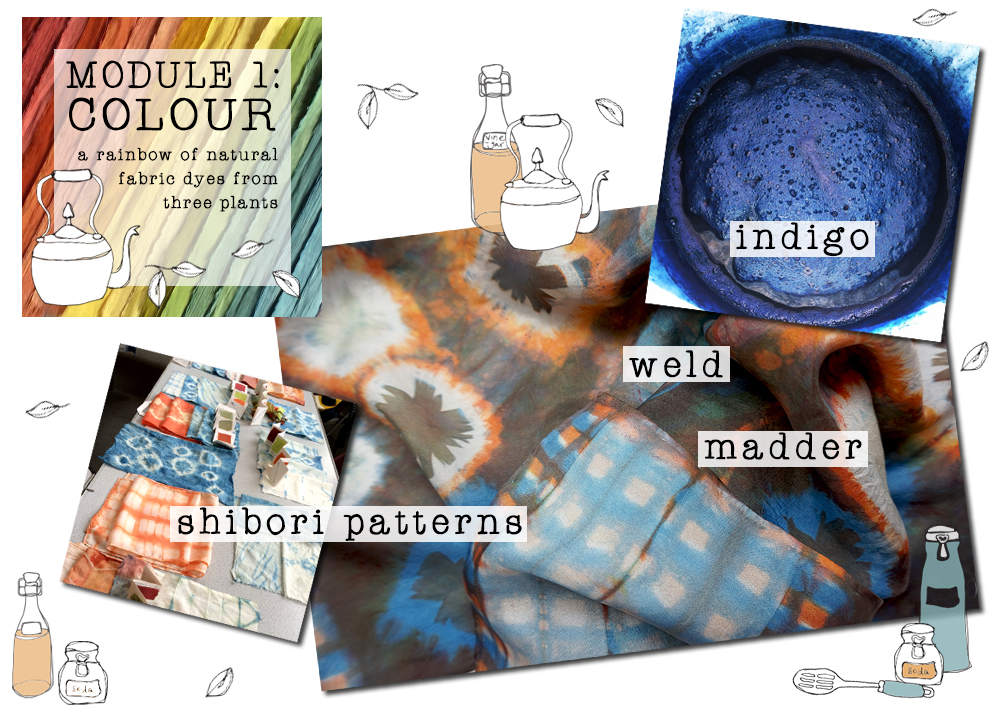 "I wanted to thank you immensely for the time, effort, and love you have put into the Natural Fabric Dyeing course.  It has been a joy, inspiration, and honor to take part!  I am so thankful that I took this step!" – Maria Muscarella
module 2: print
You can still take advantage of our Early Bird Discount and join module 2 which starts this June but only until midnight next Tuesday 30th April. Please note that this is the last time you will be able to enjoy the camaraderie of an international group of students working through the projects at the same time as you, along with my tutor support in a private facebook group. It's a really special journey that allows you the time and space to fully immerse yourself in eco printing as a holistic practice (which includes optional yoga and meditation techniques.) Or join all three modules and get one free (see below.) Find out more about our eco print module here.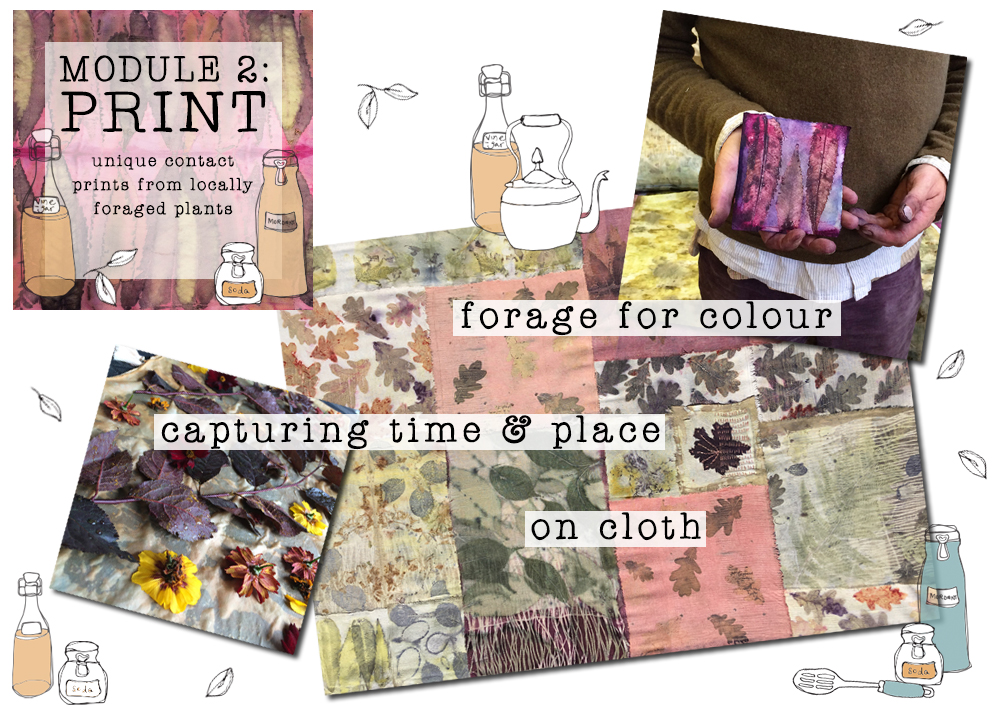 "The Wild Dyery class on Eco Print was a joy to take ! I have been inspired and am beginning a new journey for me in the process. I love the addition of the traditional natural dyes, the new bundling techniques, the dye blanket techniques and really all of the practical projects. Justine has been a clear teacher who presents the material in a way that can easily be tried. She is a very helpful tutor in her responses and comments about the work done in her class. The bringing of a larger picture, a holistic view of this craft in a more historical context is very thought provoking and has opened up new pathways for me to explore. 

I would highly recommend this class in particular and Justine Aldersey-Williams as a teacher." – Sara Burnett
module 3: pattern
Again, our Early Bird Discount is still available for this module which starts in October but why not get 3 modules for the price of 2 by joining during our May sale? (See below.) Find out more about how you can design your own unique surface pattern designs, then hand print them on fabric using natural dye pastes here.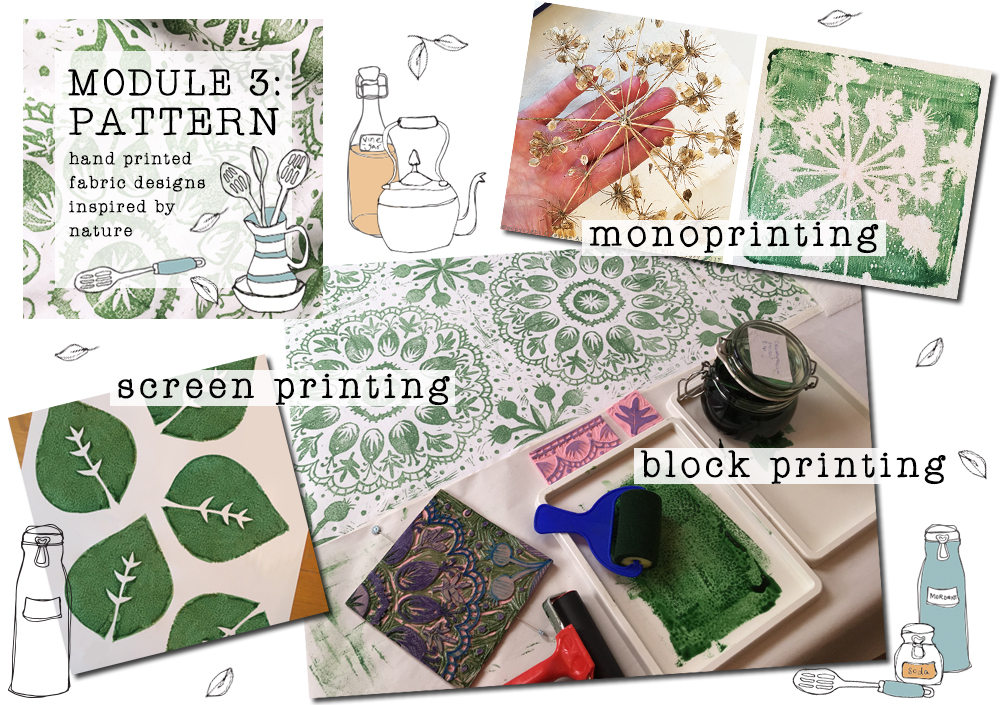 "I joined your online classes for Module 3, but am so glad I added the full course. To say that you have helped assist me in creating something that I can truly be proud of is an understatement. I know I have just started using natural dyes, but I am so excited to see where this road takes me. During every module I felt so connected to your words of wisdom. I have always been crafty and a DIY kind of girl, but you have unleashed a creative side of me that I didn't know how to express and for that I am forever grateful!" – Sabrina Carpenter 
all 3 modules better than half price – get one module FREE and SAVE £250! (May 1st-8th only)
If you love the motivation of working with a group, this really is your last call to join the final run of our training. Next year you'll only have the option of working independently at your own pace. This is a better than half price discount that won't be repeated and is only available from 1st – 8th May (although as I'm off on holiday, you can use the discount code: MAYALL3 now.) You will catch up on module 1 independently ready to begin working with your groups during modules 2 & 3 this June and October but you'll also have extended access if you prefer to work at your own pace. Find out more about studying Natural Fabric Dyeing: Colour, Print and Pattern at our best ever price here.

GET £250 OFF AND PAY JUST £349 USING THE
DISCOUNT CODE: MAYALL3
Thanks again for all your kind words of encouragement, appreciation and support during these first four years of The Wild Dyery. I can't wait to introduce the new versions of these workshops shortly along with some exciting projects you can get involved with later this year. If you do want this last chance to study with me and a group of international students, please join us and I'll see you in class this June and October!