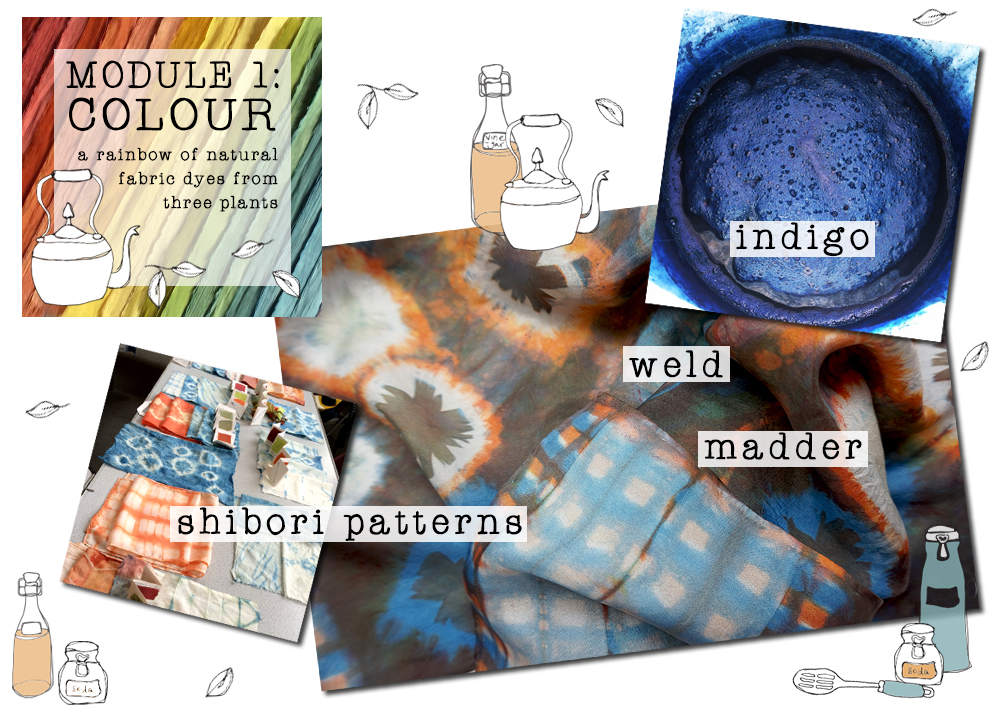 Module 1 gives you the core skills necessary to practise natural fabric dyeing safely and successfully as either a hobby or profession. There's a rich mix of fascinating historical information to contextualise your study along with inspiration from industry professionals and super clear video tutorials.
You'll discover the secret to colour and light fastness whilst creating a rainbow of fabric dyes from just three plants. You'll play with ancient Japanese Shibori patterning techniques before working on a final project.
As part of our private facebook community of international students, you'll have a network of friends to support and inspire you. Together, we can raise both standards and awareness of sustainable colour, making a real difference to the health and wellbeing of ourselves and the planet.
You'll experience not only the pure joy of finding hidden colour treasures within plants but also will develop colour mixing fluency, patterning skills and a thorough understanding of the heritage of this craft.
Course includes:-
• Myths, mysteries and facts about natural fabric dyeing
• History and heritage of colour
• Preparing fabrics for best results
• Creating and using a dye journal
• Secret to colour and light fastness
• Starting and maintaining a natural indigo dye vat
• Colour theory and mixing a spectrum of dyes from 3 plants
• Japanese Shibori and tie-dye patterning techniques
• Modifying colours with assists
• Interviews with world renowned dyers (to be announced soon!)
• Information about fashion and textile sustainability
During each week there will be a balanced mix of theory, inspiration and practical projects. There a plenty of opportunities to get up from your computer, get your hands dirty and create while you learn.
This is for you if:-
• you love colour, pattern and nature
• you'd like to feel really good about the materials you use in your creative work
• you want to feel confident and competent using natural dyes
• you don't have the time/money to take multiple live weekend trainings
• you'd like to join a community of like-minded creatives on the same ground-breaking journey
N.B. It's not necessary to take all 3 modules in sequence but you will gain the most benefit by doing so. You can work along with the group or at your own pace as you'll have 5 extra months access to all content once the course has finished.
NEXT START DATE: Mon 4th Feb 2019
Location: worldwide
Duration: 4 weeks
Price: £245
find out more about…