Welcome to The Wild Dyery
The Wild Dyery is the studio of textile designer and teacher, Justine Aldersey-Williams. Justine specialises in natural fabric dyeing. She colours, prints and patterns textiles using plant dyes instead of synthetic chemicals and is on a mission to help preserve this heritage craft (and the planet) for future generations. You've found the right place if you'd like to:-
ENROLLING TODAY... Module 3: Print
Join our certified online training...
Justine has combined her skills as a qualified teacher, designer and web developer to create the only certified 12 week, online training in natural fabric dyeing.
From the core skills needed to create a full spectrum of dyes using just three plants, to printing your own designs using sustainable, locally foraged colours, you'll discover the exciting potential of botanical dyeing in the comfort of your own home.
Our course is split into 3 modules of 4 weeks duration delivered over 12 months. You're free to take just one module or all three in sequence. 
Whether you're a craft enthusiast wishing to share some educational fun with your children or a textile professional wanting to transition your practise towards more sustainable materials, we cover it all in engaging lessons which include videos, exclusive interviews with industry professionals, downloadable hand-outs and daily support in our private members community.

This course is for you if…
* You LOVE textiles but also love the environment and want to learn how to work creatively in a way that celebrates nature
* You're looking for quality tuition from a qualified teacher with over 20 years experience
* You'd like to be a part of a global network of natural dyers who can support your learning
* You feel passionate about contributing to a more sustainable planet
* You're ready to immerse yourself in the ancient skills our ancestors practised for generations before us
* You'd like to get outside and experience the PURE MAGIC of releasing the beautiful colours hidden within 'weeds' foraged from your local area
* You'd like to re-wild your life and creativity by deepening your connection with nature
The Wisdom Keepers…
*Just announced!* Joining us for exclusive interviews, insights and top tips are some of the world's most experienced and knowledgable natural dyers or as we like to call them, 'The Wisdom Keepers'. In Module 1, Author of 'Wild Color'
Jenny Dean
, medieval dye specialist,
Debbie Bamford
, author of 'Indigo: Egyptian Mummies to Blue Jeans',
Jenny Balfour-Paul
and UK representative of the World Shibori Network,
Michelle Griffiths
will be sharing some their vast knowledge and experience in interviews. In Module 2,
Fabienne Dorsman-Rey
,
Irit Dulman
and
Clare Dubois
share unique insights into their creative lives. In module 3 we have author
Drusilla Cole
, designer
Leenjte van Hengel
,
Pooja Ganatra of Kutch Culture
and joining us in 2018, international dye masters
Michel Garcia
and
Charllotte Kwon of Maiwa!
There's also 'dye candy' from our 'Inspirational Artisans' - up and coming influencers making a big impact with their beautiful work.
Bonus Supplier Directory and Exclusive Discounts!
We want our students to get a head start when sourcing materials and equipment so when you sign up you'll be sent our EXCLUSIVE 'Little Black Book of Natural Fabric Dyeing'. This is insider information that most designers and teachers keep a closely guarded secret... our directory with over 50 worldwide suppliers helping you find the best quality and prices. Enrolled students can get from 10%-25% off using discount codes listed.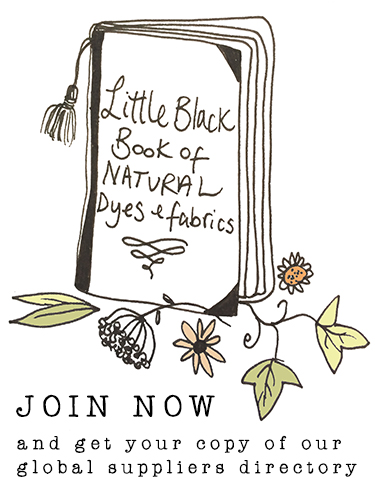 Natural Fabric Dyeing – the 12 week online training
This is an amazing opportunity to study a fascinating heritage craft from home whilst connected to a group of international enthusiasts taking the course at the same time. You'll be blazing an exciting new trail by raising awareness of plant dyes whilst developing creative skills that will inspire and refine your work… read more…
module 1: colour
Next start date: Mon 5th Feb 2018
Gives you a solid foundation of core skills necessary to practice natural fabric dyeing safely and successfully as either a hobby or profession. In this first 4 week module there's a rich mix of…
read more…
module 2: print
Next start date: Mon 4th June 2018
After understanding the theory and practice of natural colour creation in the first module, Module 2 offers you a chance to begin deepening your connection to your materials by foraging for local dye plants to use in unique fabric and paper eco prints…
read more…
module 3: pattern
Next start date: Mon 1st Oct 2018
After grounding your practice in the core skills of Module 1, then relinquishing control by co-creating with nature in Module 2, Module 3 progresses your development by harnessing both the science and serendipity of plant dyes as you…
read more…