Natural fabric dyeing is becoming hugely popular! Many people can recreate shibori or eco printed fabrics they've seen online but very few have the creative talent to design and produce their own collection of surface pattern designs.
This exciting, online home-study course teaches you how to hand print fabric using traditional techniques with plant dyes.
You'll develop your own design style through observational drawing prompts, develop motifs and patterns, then experiment with hand painting, mono printing, screen printing and block printing.
You'll learn more about the fascinating history and ancient heritage of the craft you're preserving while considering the ecological benefits.
Delivered via video and written tutorials that you can instantly download and keep forever, this course is packed full of content to help you feel qualified, confident and inspired to begin patterning your textiles with plants.
20+ hours of video and written tuition all available to download and keep forever (equivalent to a 3 day workshop)
fun practical projects that build lifelong skills
historical and ecological context
1 year's access to the classroom
membership to our natural dye forum with over 10K members
certificate of achievement upon completion of practical projects
taught by a qualified textiles teacher
If you've been wanting to transition your textile work away from petrochemical dyes derived from fossil fuels, by instead creating stunning surface pattern designs using botanical dyes, or even if you'd just like to revive your clothing with natural colours and patterns, this course can help you fulfil your creative aspirations safely and successfully.
You'll have the opportunity to:-
discover key equipment and tools of the trade
draw observationally from nature
identify and develop your design style through creative prompts
develop motifs, border designs and repeating patterns
mix natural dye and mordant pastes
make your own gelli/jelly plate for monoprinting
create simple screen prints
block print a collection of surface pattern designs
conduct wash and light fastness tests
discover how to grow your own dyes
"As a university lecturer with thirty-five years experience of adult education in architecture and allied design disciplines, I can testify to the sheer professionalism and dedication that Justine has put into the design and delivery of this inspirational, innovative course and its associated, stimulating and mind-expanding courseware and learning materials." (past student)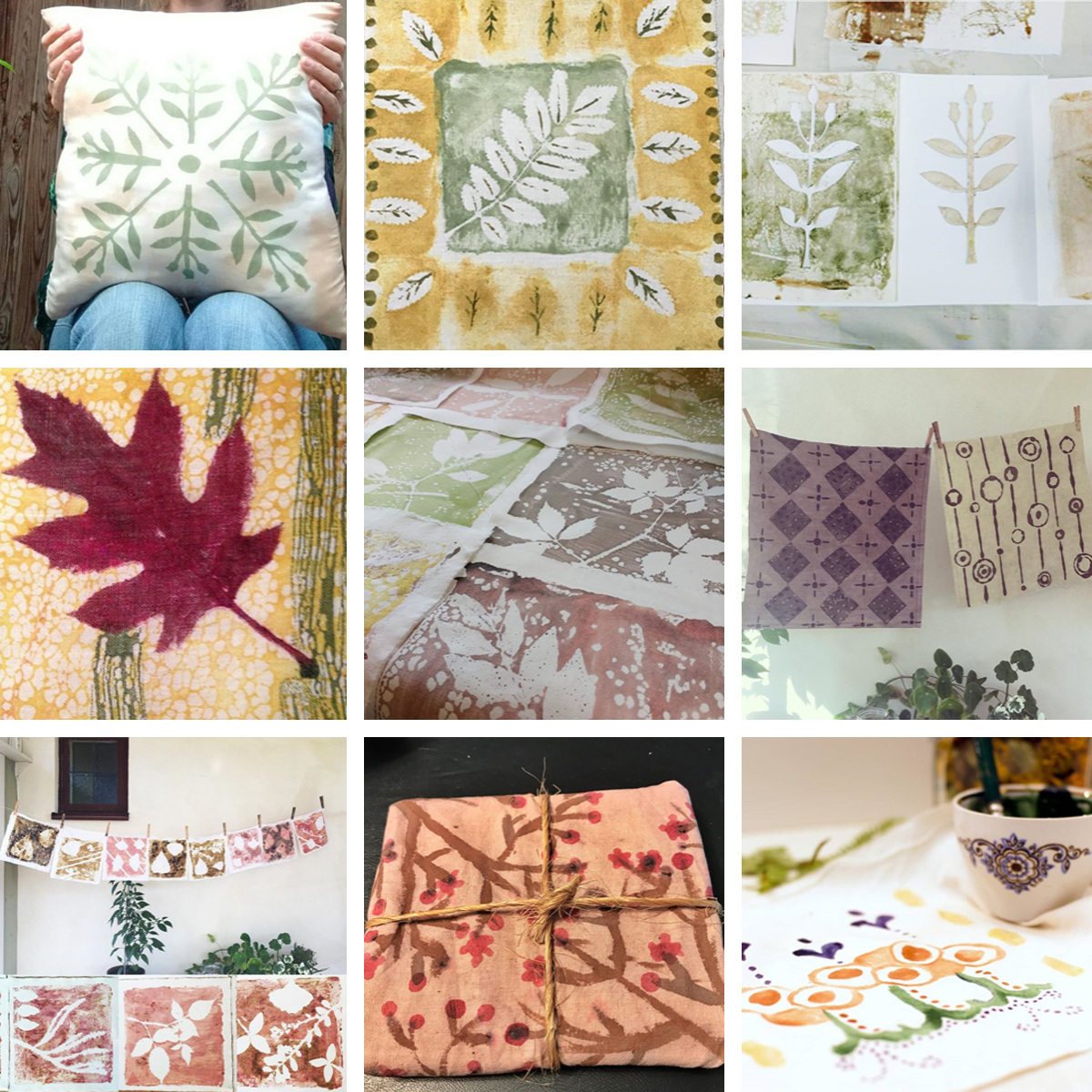 Work above shown with permission of past students; Janika Solmann, Winki Allen, Barbara Zvirzdinis, Gillian Raine, Bunchy Casey, Joanquina Novieta Tourisia, Ginny Farquhar and Charlotte Hoflund
"The whole course has been incredible, I've learnt so many skills that I'll use for years to come." (past student)