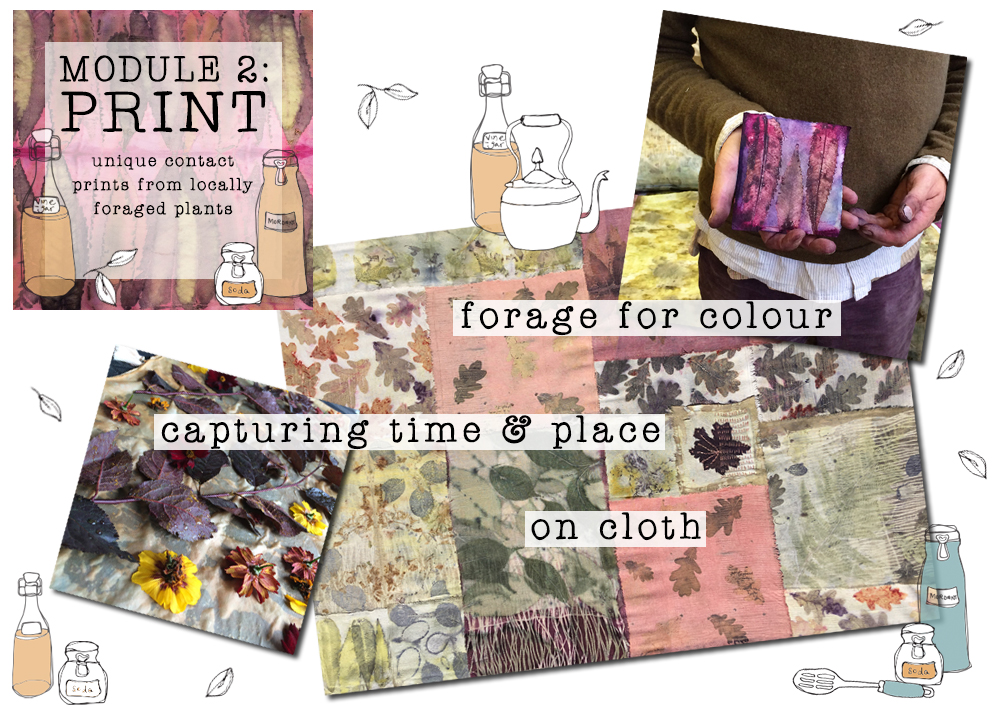 Module 2 offers you a chance to deepen your connection to your materials by foraging for local dye plants to use in unique fabric and paper eco prints. In this second 4 week course you're given more opportunities to step away from technology as you get outside and discover the wide variety of amazing plants that can be used for their colour, shape and texture.
By foraging in your local environment and discovering new uses for plants you may have previously walked past, you'll increase your sense of reverence for nature and will bring your previous learning to life by developing your knowledge and ability to safely identify your local flora.
You'll discover the secret to crisp, clear and colourful eco prints whilst embracing the serendipity of co-creating with nature. There's nothing quite like the excitement and anticipation you'll feel whilst unwrapping your first magical bundle of leaves and fabric or the awe when you realise you just recorded a flower's unique imprint onto cloth.
As part of our private Facebook community of international students, you'll have a network of friends to support and inspire you. Together, we can raise both standards and awareness of sustainable colour, making a real difference to the health and wellbeing of ourselves and the planet.
You'll experience not only the pure joy of finding hidden colour treasures within plants but also the therapeutic benefits of co-creating a fabric memory of nature.
Course includes:-
• Preparing fabrics for best results
• Inspiration and interviews with world renowned eco printers
• History and heritage of nature printing
• Safely identifying appropriate plants
• Secret to crisp, clear and colourful eco prints
• Bundling, steaming and simmering techniques
• Using iron and dye blankets
• Creating multi-coloured and discharged prints
During each week there will be a balanced mix of theory, inspiration and practical projects. There a plenty of opportunities to get up from your computer, get your hands dirty and create while you learn and this module also offers optional yoga and meditation techniques to help you tune-in to the healing frequency of nature.
This is for you if:-
• You'd like to slow down, loosen up, get outside and practise relinquishing control in your creative work
• You're interested in working with organic materials for aesthetic, spiritual or ethical reasons
• You want to create beautiful eco prints rather than something that looks like it's been exhumed!
• you don't have the time/money to take multiple live weekend trainings
• you'd like to join a community of like-minded creatives on the same ground-breaking journey
N.B. It's not necessary to take all 3 modules in sequence but you will gain the most benefit by doing so. For instance, in module 2 you'll be able to create a more diverse and sophisticated pallet of colours if you've taken module 1. You can work along with the group or at your own pace as you'll have 5 extra months access to all content once the course has finished.
NEXT START DATE: Mon 3rd June 2019
Location: worldwide
Duration: 4 weeks
Price: £245 or £199 with Early Bird Discount Code: M2EB (until 30:04:19)
find out more about…