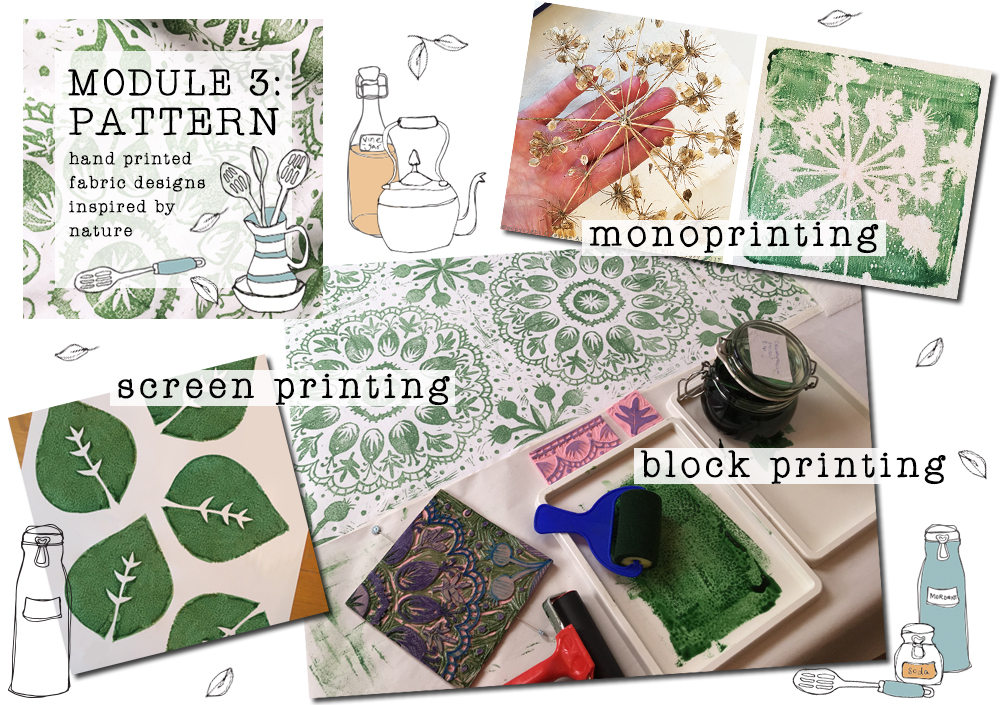 Module 3 shows you how to harness both the science and serendipity of plant dyes as you express your unique style through natural and traditional surface pattern design. In the third of these 4 week courses you'll be collaborating with nature as inspiration for your own unique textile designs.
Having foraged for plants in your local area, you'll enhance your observational skills by spending quality time drawing 'en plein air'. Regardless of your perceived ability, this time spent deeply concentrating creates a meditative stillness that can unleash your inner artist. You'll be given various creative exercises that will enable you to find your own drawing style before being shown how to use your drawings to create repeat patterns on paper. Once designs are finalised you'll experiment with numerous lo-tech, traditional printing techniques that make creating patterns on fabric with natural dyes an accessible possibility in your own home.
As part of our private Facebook community of international students, you'll have a network of friends to support and inspire you. Together, we can improve standards and raise awareness about sustainable colour, hopefully making a real difference to the health and wellbeing of ourselves and the planet.
My aim is for you to experience not only the pure joy of creating with natural materials but also for you to begin expressing unique interpretations of your local environment in patterns on fabric.

Course includes:-
• Preparing fabrics for best results
• History and heritage of traditional printing
• Observational drawing from nature
• Development of repeat patterns and placement prints from initial drawings
• Using plant dye extracts to create printing inks
• Creating simple block, screen and gelli prints
During each week there will be a balanced mix of theory, inspiration and practical projects. There are plenty of opportunities to get up from your computer, get your hands dirty and create while you learn.

This is for you if:-
• You'd like to design your own unique textiles using natural materials and traditional surface pattern techniques
• You'd like to free up and develop your current drawing ability or try drawing for the first time
• You need to spend time away from technology enjoying your local environment
• You'd like to know how you can create simple prints from home without needing large or expensive equipment
• you don't have the time/money to take multiple live weekend trainings
• you'd like to join a community of like-minded creatives on the same ground-breaking journey
N.B. It's not necessary to take all 3 modules. You can work along with the group or at your own pace as you'll have 5 months extra access to all content once the live dates have finished.