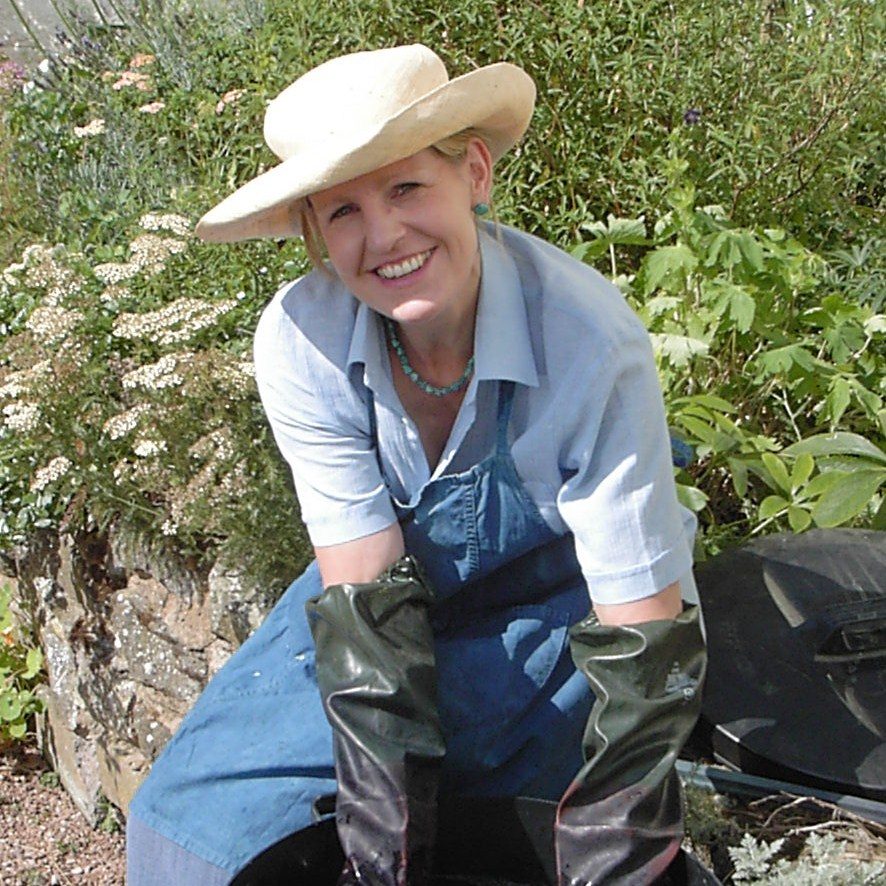 Image © Jenny Balfour-Paul 2019.
Jenny Balfour Paul, writer, artist/dyer, traveller, curator and international lecturer, is author of 'Indigo in the Arab World' (Routledge), 'Indigo: Egyptian Mummies to Blue Jeans' (British Museum Press) and 'Deeper than Indigo: tracing Thomas Machell, forgotten explorer' (Medina Publications) as well as many other publications. 
She was consultant curator for the Whitworth Art gallery's 2007 UK touring exhibition 'Indigo, a Blue to Dye For' and consultant for two documentary films on Indigo. 
Jenny is an Honorary Research Fellow at Exeter University; Fellow and past Trustee of the Royal Geographical Society; Fellow of the Royal Asiatic Society and New York's Explorers Club; immediate past President of the UK's Association of Guilds of Weavers, Spinners and Dyers and a partner in 'Silk Road Connect', an educational initiative launched by cellist Yo Yo Ma's Silk Road Project in New York in 2009. 
She promotes revivals of natural dyes worldwide and researches dyes in historical archives and recovered from shipwrecks. Her collections are held in major UK museums (indigo-dyed textiles from many countries in The Whitworth Art Gallery in Manchester; indigo and other natural dye samples, tools and textile examples from West Africa, Asia and elsewhere in the Department of Economic Botany at Kew, London; and textiles and related artefacts from the Arab World in Oxford's Pitt Rivers Museum).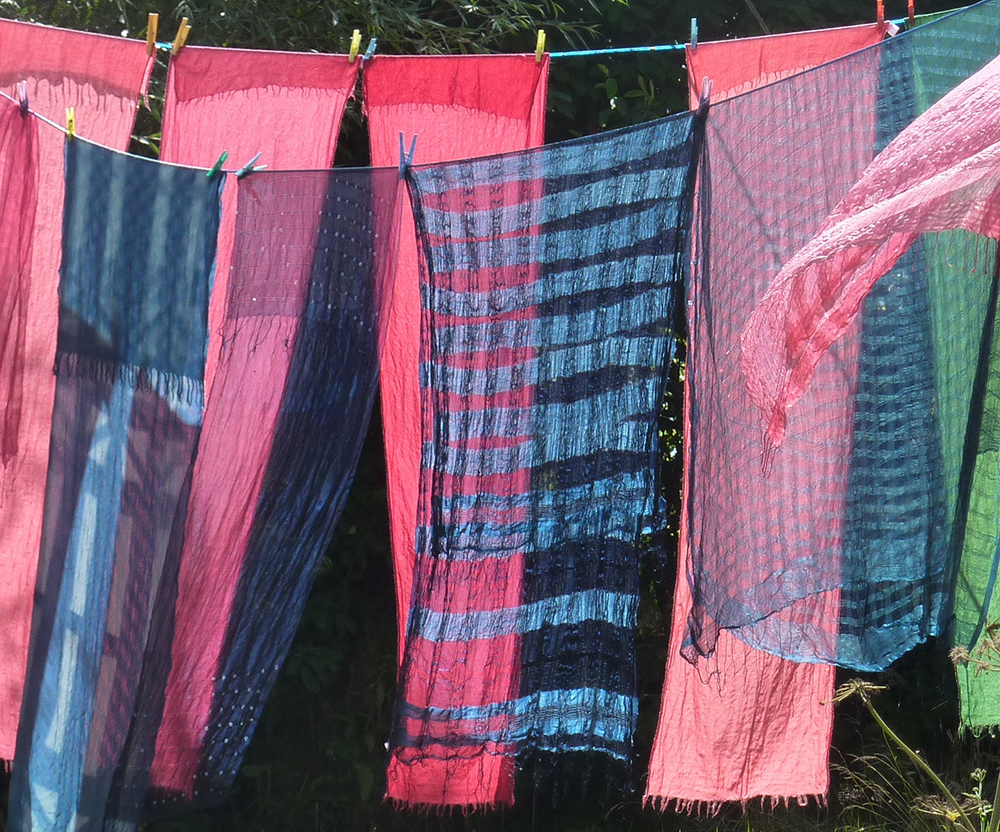 Dyeing with homegrown indigo, weld and Mexican cochineal. Image © Jenny Balfour-Paul 2019.
For anyone who isn't familiar with your work yet, could you tell us how you are currently involved in natural dyeing please?
One main focus was a big international indigo event in Kolkata, called 'Indigo Sutra' that took place in Kolkata in November 2107, for which I was a consultant (see below for details). I am exploring ways of using natural indigo in education and am also working on historical and contemporary uses of indigo, such as for paint (I ran a workshop recently at the Bodleian Library in Oxford for curators to experience both dyeing and painting with indigo). I am collaborating with colleagues Dominique Cardon and Anita Quye on research into 18th century archives of dye recipes and pattern/sample books, and writing about colour and indigo for international textile journals. I love working with students and in Feb 2019 returned to Lasalle College of the Arts in Singapore to be guest lecturer and artist for their first interdisciplinary week, which focused on the colour Blue. There is to be a play about Indigo in London later this year that I am involved in, and apart from the usual lectures I look forward to being keynote lecturer for a natural dye event being planned at Cardiff College School of Art and Design. I am currently preparing for a solo exhibition.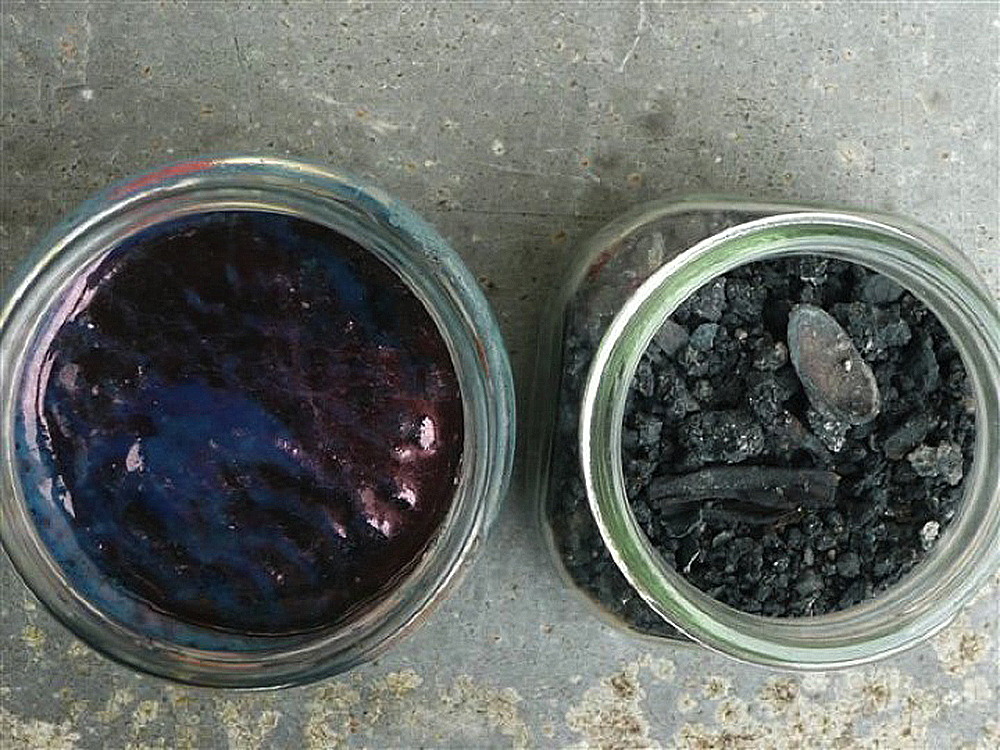 Jenny's sampling of indigo from a shipwreck of 1640. Image © Jenny Balfour-Paul 2019.
When did your interest in natural dyes begin and what or who inspired that?
Travelling overland to India and Sri Lanka as a teenager opened my eyes to the richness of textiles and their colours. The first object I ever acquired (in an exchange for a pair of jeans) was an Afghan carpetbag dyed in reds and indigo. In my early twenties I worked and lived in the Arab world where I saw wonderful weaving and dyeing, and in Tunisia I was taught how to weave and use plant dyes by a French nurse who had spent most of her life in North Africa. I was a batik artist, using Procion dyes then, and once back in UK was elected a member of the Devon Guild of Craftsmen. I was also lucky to continue studying, at her Devon studio, with Susan Bosence, dyer and block printer who taught at Camberwell and Farnham Art Colleges. She was passionate about ethnic textile traditions and indigo, though her source was synthetic indigo at that time. When I travelled to Yemen with my husband in 1983 and discovered that there were still a few traditional indigo dyers working there, Susan urged me to return and record their work, stressing how important it was to make such records 'in case of revivals in the future'. She even found me a grant to enable me do this fieldwork, and that launched my entire career, which began with looking at surviving indigo traditions in the Arab world and later in many other countries. Being an indigo dyer myself made all the difference to this research.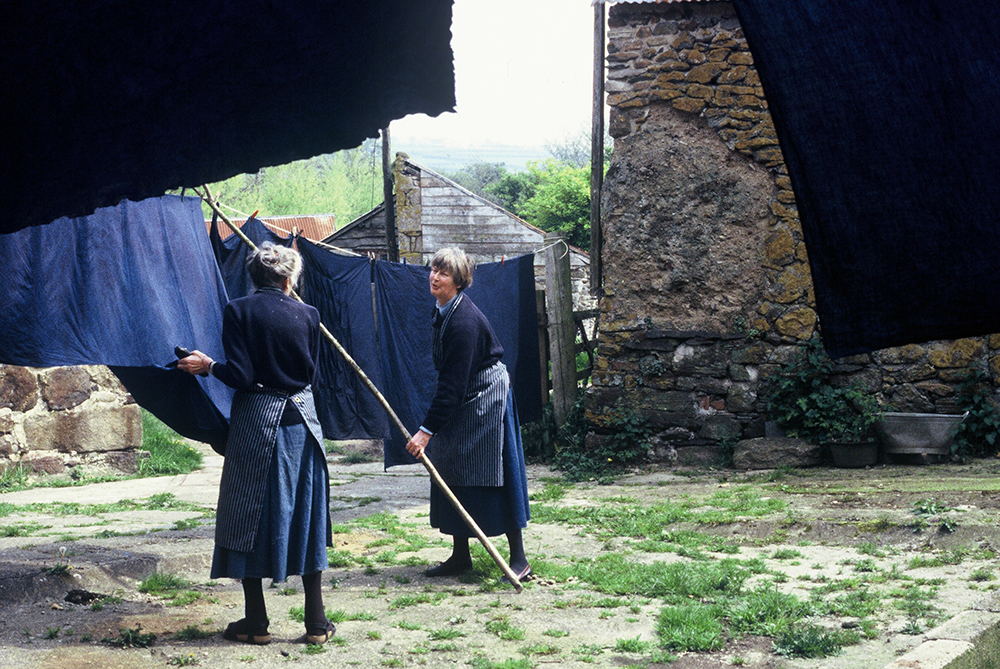 Jenny's natural dye mentor Susan Bosence. Image © Jenny Balfour-Paul 2019.
How has your work progressed over the years? What have you become more interested in? What have you become less interested in?
While I was doing my PhD on 'Indigo in the Arab World' (later published) and also my book 'Indigo: Egyptian Mummies to Blue Jeans' I was most focused on recording all I could about indigo practices that had been going on for centuries but in many cases were in danger of dying out, or had already died out but were within living memory. I was always growing and using my own indigo plants and keeping up my artwork while reading widely in libraries and archives for the historical and background information. Since I began in the early 1980s there has been a great increase of interest in natural dyes for reasons of sustainability, and Indigofera, being nitrogen fixing, is the ideal 'green' crop for a closed loop system, as well as being in such demand for denim, among other things. I am now doing much less historical and academic research in order to focus instead on the practical promotion of natural indigo, whether through education, exhibitions, art, photography, writing or other media.
You're well known for your brilliant books about indigo. When you chose to specialise, what was it about indigo that most fascinated you?
Indigo is unique in the way it behaves, there is no other natural dye like it. Dyeing with indigo is magical, due to its extraordinary chemistry. The potential of the textile techniques that go with it fascinate me, such as shibhori, batik, block-printing etc. It is a beautiful colour, reflecting the blue planet, and has an incredible history. I love the way it connects the disciplines as well as people, cultures and places across the globe.
| | |
| --- | --- |
| Jenny's first field trip in Zabid, Yemen. Image © Jenny Balfour-Paul 2019. | Making indigo from 'mountain indigo', SW China 1993. Image © Jenny Balfour-Paul 2019. |
Where in the world has your craft taken you and where was most interesting?
There are so many places I loved, as I am a keen traveller. However, looking back - and given the tragedy that has happened since - the visits to Yemen were particularly fascinating, as was travelling in remote parts of southwest China just at the point when the region was opening up to the West. I was bowled over by Bhutan and love travelling in Buddhist countries, and also feel at home in India, especially Bengal and Bangladesh, where I have many friends and where the textiles are outstanding and the indigo story complex.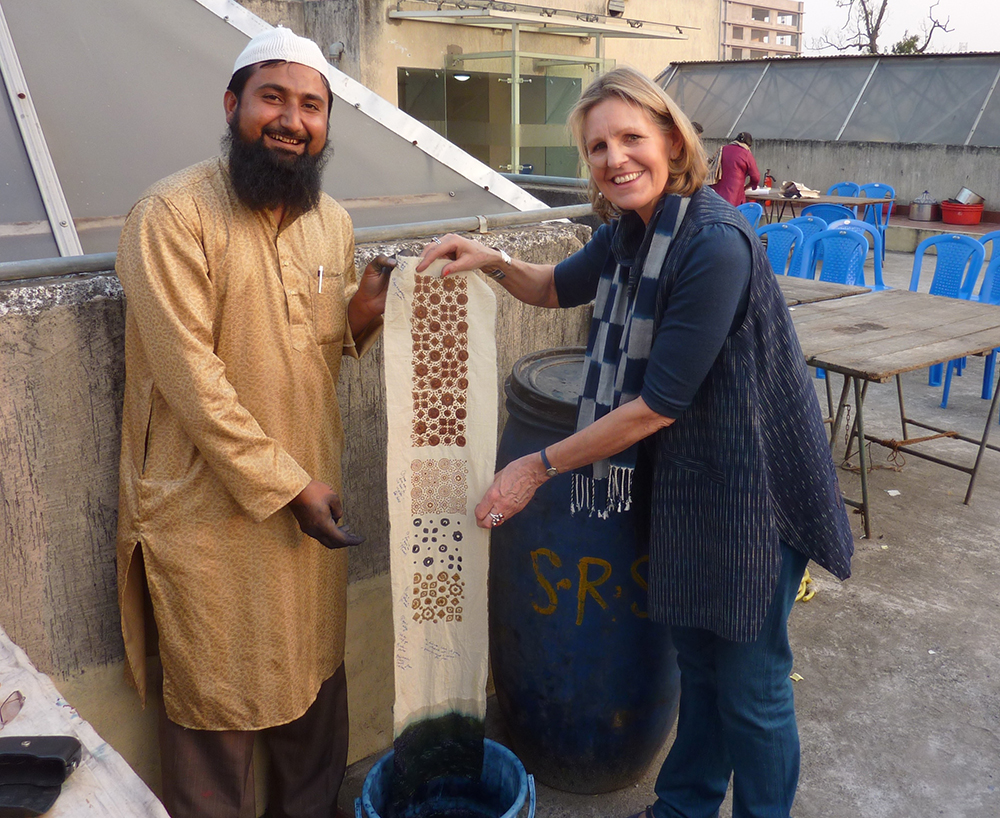 Indigo dyeing in Kolkata with Sufian Khatri. Image © Jenny Balfour-Paul 2019.
Some people are confused between 'tropical' indigo and woad. Can you explain the difference and reason for this confusion please?
It is to do with history and process. The precursor to indigo dye contained in the leaves of all the indigo-bearing plants is so-called 'indigo white', but the various indigo-bearing plants worldwide were processed in different ways. Woad (Isatis tinctoria) leaves were crushed up to make a kind of compost (as Polygonum tinctorium still is today in Japan, and in parts of West Africa too a whole leaf method is also used, often with the vine Lonchocarpus cyanescens). Using the whole leaves means that indigo dye pigment is not extracted from the leaves. In Antiquity hard 'stones' of indigo pigment that had been extracted from 'tropical indigo' leaves (notably Indigofera tinctoria) - by soaking them and adding oxygen - reached Europe from India. They were considered a painting pigment entirely different from the fermented woad leaves being traded and used by the woad dyers, but we now know that the same indigo molecule provides the actual blue colour, whatever the plant source and however the leaves are processed. Incidentally, the word Indigo comes from the imported 'stones' – which were 'a substance from India'.
Making indigo from Polygonum Tinctorium grown in Jenny's garden. Image © Jenny Balfour-Paul 2019.
In our Core Skills workshop, we focus on creating a spectrum of dyes using indigo, madder and weld. Do you have any 'top tips' or tricks you've discovered when working with indigo that might help a beginner?
Never be in a rush or try to shortcut the multiple dips required. Make sure the dye vat is warm. I feel it makes a difference to leave the dyed cloth or yarn to 'cure' for several days if possible (in somewhere dark), rather than rinse at once – it seems to improve the fastness of the dye
Always use gentle eco washing products, never harsh detergents, and adding vinegar to the rinse can help to stabilise the dye.
I always make a little 'indigo dye god' in the Japanese way before I dye. It reminds me to respect the dye vat and slow down before starting. Each year Japanese dyers make new ones and hang them in their shrines in the dye workshop. They 'pray' to them before they start dyeing.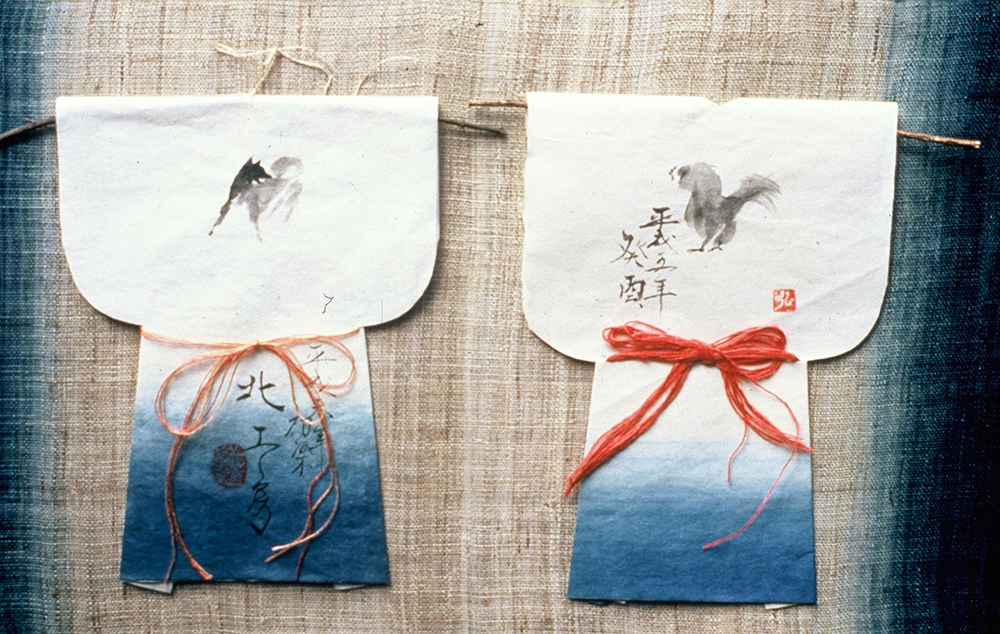 Japanese dye gods made for Jenny by Shindosan – each year Japanese dyers make new ones (these are year of the dog and the cockerel) and hang them in their shrines in the dye workshop. They 'pray' to them before they start dyeing. Image © Jenny Balfour-Paul 2019.
You were a consultant for 'Indigo Sutra – an international event to celebrate, promote and revive natural indigo' in Kolkata in 2017. It sounded very exciting! Could you tell us about it please?
INDIGO SUTRA began with a dream shared with fellow indigo lover Amrita Mukerji.  In 2000 we explored West Bengal in the footsteps of explorer and indigo planter Thomas Machell a century and a half earlier, seeking his former indigo factories and wondering if history could be reversed in a positive way.
Indigo was grown and used for millennia in the Indian Subcontinent, but in the 19th century Bengali labour was ruthlessly exploited by European (mainly British) planters to produce most of the world's supply. In the later 19th and early 20th century, peasant revolts and the discovery of synthetic indigo in Germany destroyed the industry.
However, there is renewed interest today in returning to organic indigo from Indigofera species, soil enrichers with many environmental benefits. Sutra Textile Studies, founded by Amrita Mukerji in Kolkata in 2002, has run events on conservation, batik and natural dyes, but Indigo Sutra aimed to encourage natural indigo revivals in Northern India and elsewhere, using expertise and guidance from Indian and international scholars and practitioners.
A two-day seminar was followed by two more days of practical workshops and demonstrations. There was a major exhibition, Grand Bazaar of naturally-dyed textiles, indigo fashion show and the first indigo auction to be held in Kolkata for well over a century.  Participants also went on optional excursions to weaving and dyeing centres outside Kolkata, as well as places of interest within the city. The event was oversubscribed and the follow-up has been widespread and encouraging.
INDIGO SUTRA was held at ICCR, Indian Council for Cultural Relation, and J. D. Birla Institute in Kolkata from 9th-18th November, 2017. See the website www.sutratextilestudies for details, and YouTube to hear the talks and get an idea of the workshops and events.
Do you have any other events coming up?
Most forthcoming events are listed on the website https://deeperthanindigo.com/events/ 
Is there anywhere you haven't been that you'd like to visit and any dye plants you haven't used that you'd like to try?
I would like to go to Oaxaca in Mexico. I am happy to stick with indigo in professional terms, not least because it is a vegetable dye and because it is the most feasible dye to revive on a large scale and demand is growing. I am doing a lot of research on 18th dyers' archives and look forward to having fun with dyes such as onion skins, weld, pomegranate and walnuts with my grandson soon, and having a garden again so that I can grow various dye plants to keep my hand in and use on a small scale.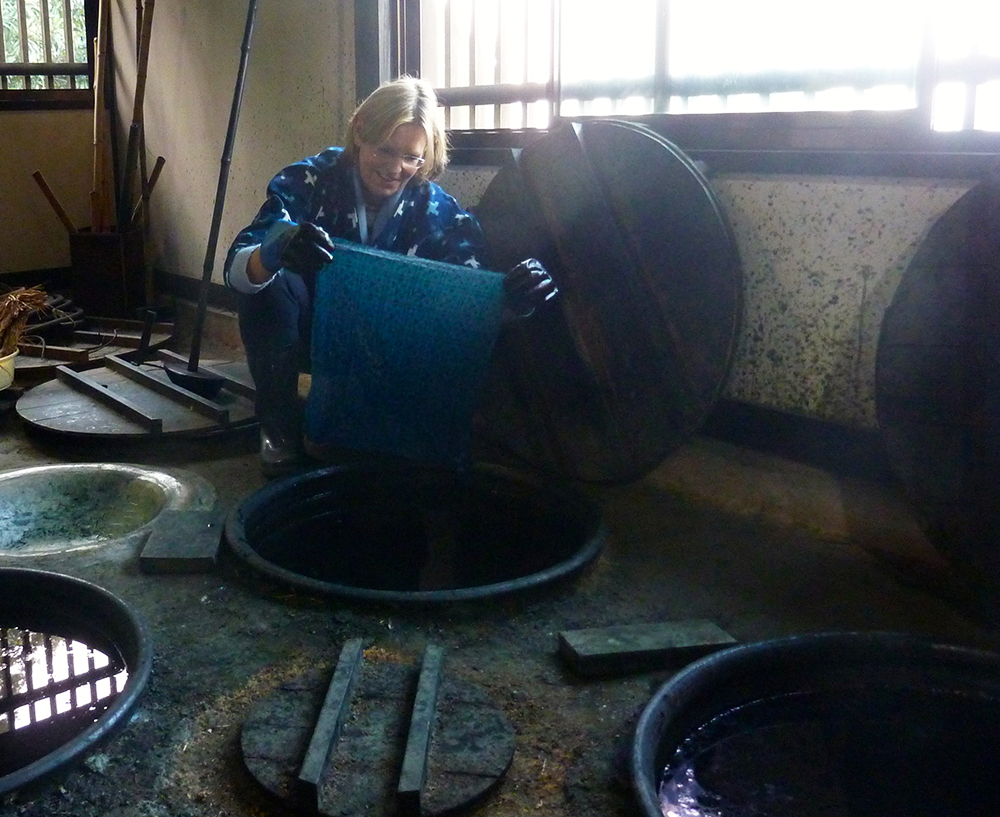 Indigo dyeing in Japan. Image © Jenny Balfour-Paul 2019.
As the popularity and awareness of natural dyes increases what would be the best case scenario for the future of this craft in say 50 years time? What would be the worst case scenario in your opinion?
Best case scenario is a much less wasteful textile industry that respects the environment. This would mean that people buy fewer clothes of better quality, ideally made from organic fibres dyed with sustainable natural dyes (people will surely always crave colour). Worst case would be even more pollution caused by toxic chemicals used in the textile industry and even greater demand for cheap fast fashion.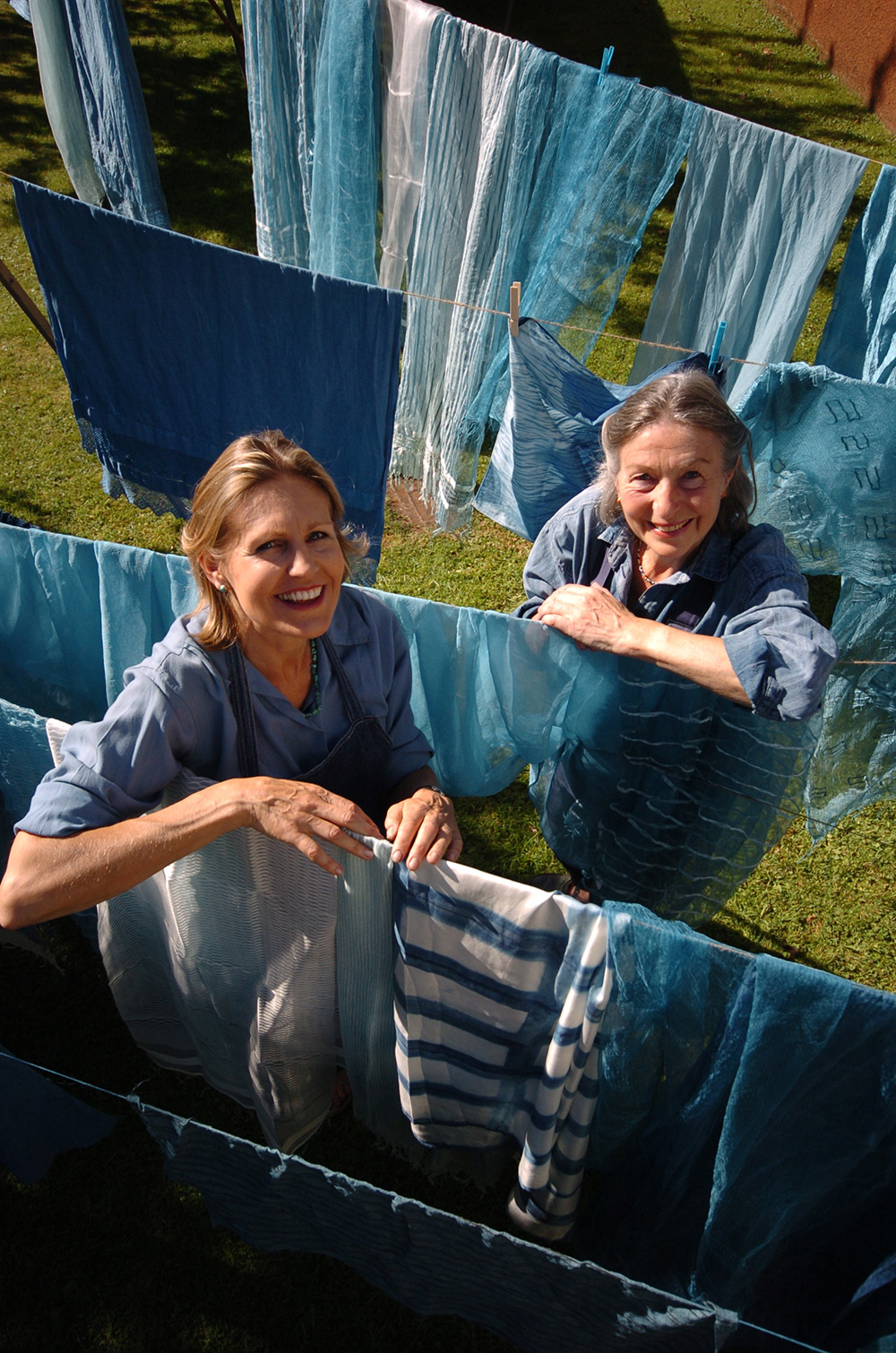 Dyeing with home grown Japanese indigo, with Lucy Goffin. Image © Jenny Balfour-Paul 2019.
Is there anyone currently (new or old!) inspiring you? Can you recommend any great blogs or social media pages to follow?
I am encouraged by a new generation, not least the work that you are doing Justine, making use of modern technology to promote something both timeless and important for the future. There are Facebook groups for indigo and other natural dyeing conversations and sharing of knowledge. The wider discussion on social media around climate change and the terrible profligacy of the fast fashion industry is adding to the importance of highlighting natural dyes and organic fibres.
What do you hope your legacy will be?
I don't think about legacy, but I would like to feel that there are enough people who care about sustainable dyes, notably indigo, to carry on using and promoting them in future generations. And that in a very small way I have passed on something positive, in my concern for nature and not least in my books and by ensuring my collections are conserved and accessible in public institutions for others to enjoy and use.
You can follow Jenny Balfour-Paul on Instagram and Twitter. 
This is just one of many interviews featured in 'Core Skills in Natural Fabric Dyeing' and the full 'Foundation in Natural Fabric Dyeing. Want to start studying online now? Get instant access and work at your own pace or join our 2020 international study group...
self-paced single modules:
£245 each or £199 with discount code: JennyBP before 30:11:19
2020 international study group (February, June & October): £599 or £499 with early-bird discount code: NATURAL2020 before 31:12:19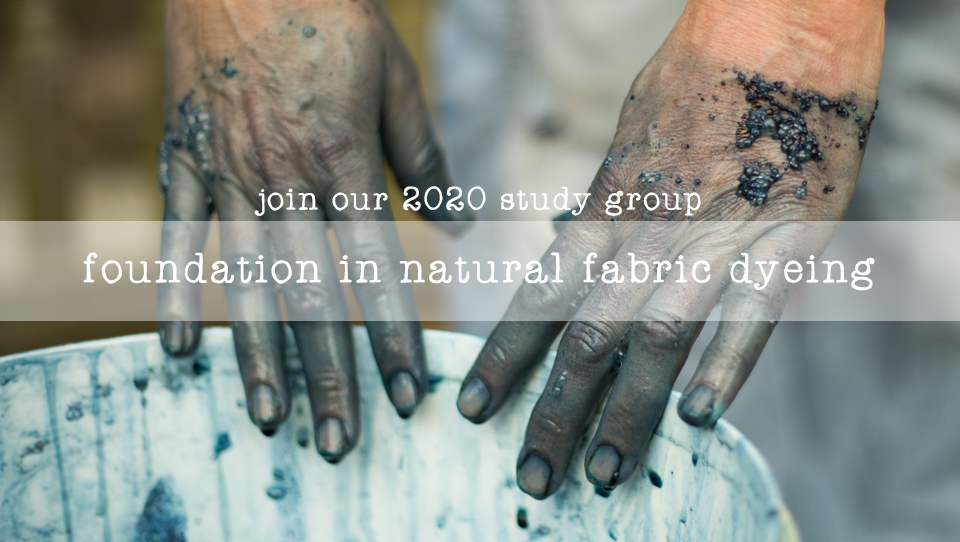 The full Foundation in Natural Fabric Dyeing helps students stay on task as they progress through all three courses consecutively. Lessons are published on scheduled dates with daily tutor support and with the camaraderie of students from all over the world. Students find sharing their process and results in our private forum hugely motivating and create professional networks and friends for life! During our early-booking period you can save £235 by studying this way and you still have the option of working at your own pace as you get 1 year's access and the facility to download all materials. Sign up before 31:12:19 and you can pay instalments... more info...