I am a TreeSister. This means that I donate a percentage of profits from my online workshops to the charity TreeSisters who are empowering women to reforest the planet. To date, contributions from student course fees have planted 4500 trees! I'm so grateful to everyone who has not only found natural fabric dyeing and considered it's potential as an alternative to petrochemical, fossil fuel derived colours but also for supporting me so that I in turn can support this inspirational cause.

I also facilitate a local women's circle or TreeSisters 'Grove' where I share some of the incredible personal development techniques TreeSisters offer members for free, before we plan creative fundraising events.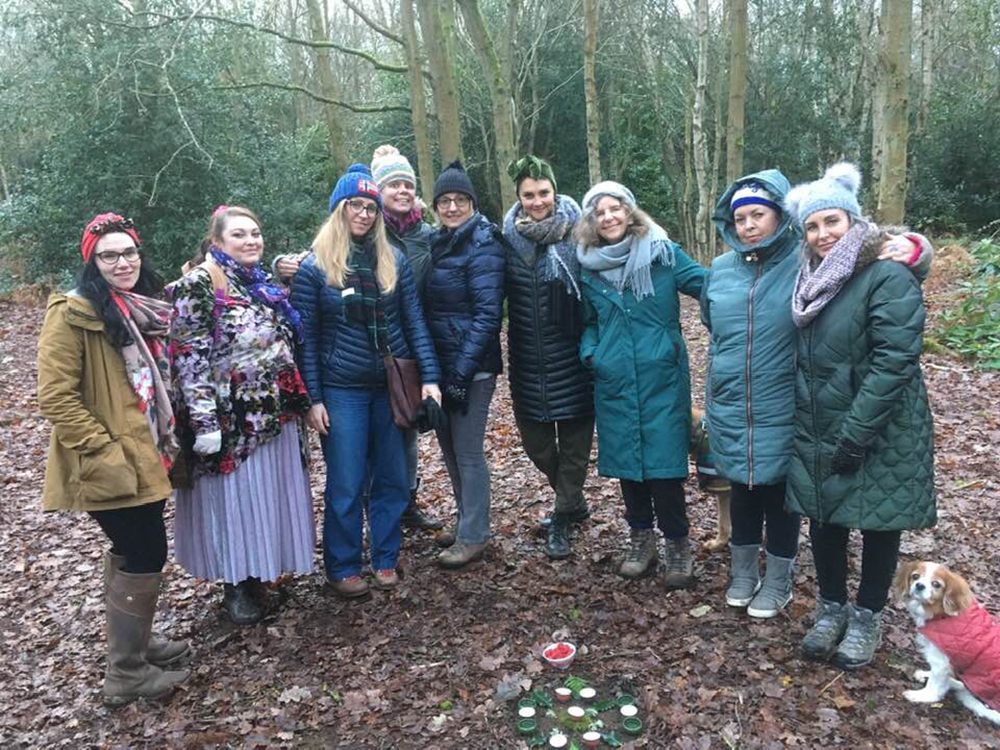 TreeSisters Deva Grove 'Forest Bathing' Winter Solstice 2019
I'd like to do more though. I'm very aware of the limited timescale we have to reverse our impending climate breakdown and feel the urgency of taking action more and more each day.
Sometimes, being creative feels like frippery and teaching textiles seems pointless on a dying planet but then I realise that being creative with nature is exactly what's needed to reconnect people with the truth of who they are so that they revere rather than destroy their life support system. I need to reconnect and remember this truth over and over because, like all of us, I'm bombarded constantly with media messages telling me that I should aspire to a celebrity lifestyle with gratuitous possessions to indicate my status. The world's gone mad but what can you do except keep doing what you do so instead, I keep on teaching natural fabric dyeing while donating and volunteering for TreeSisters and am on a mission to spread the word.
Happily, they have made their donation process even easier lately which means I've had a brainwave about how to raise more funds. From now on, anyone wishing to learn natural dyeing with me can access £50-£100 discount (depending on how many modules you join) when they donate *ANY AMOUNT* to TreeSisters. In effect, this has the additional benefit of creating a sliding scale of course fees which makes learning this craft more accessible for people on lower incomes.
If you're interested in taking one of my single modules:-
you can get a £50 discount code by donating £5 (or more) and if you'd like to take all three modules consecutively, by donating £10 you can get £100 discount code.
To claim your discount code:
Step 1: Donate to our fundraiser page: Any amount is fine but please consider what the restoration of the Earth is worth to you and your future generations beforehand. Suggested minimum for single modules is £5 and this will get you a £50 discount code. Suggested donation for the full foundation (three modules) is £10 and this will get you a £100 discount code. ***PLEASE CONSIDER DONATING MORE THAN THE SUGGESTED MINIMUM***
Step 2: Screen shot your donation confirmation page or email and send to: learn@naturalfabricdyeing.com stating which course you'd like to join.
Step 3: Look out for your email containing your £50-£100 discount code. Copy the code.
Step 4: Sign up to one of the courses below remembering to input your code in the 'Coupon Code' field.
Step 5: Feel great about helping to heal climate breakdown while learning earth-loving textile skills AND benefit from the brilliant free personal development resources available from TreeSisters.
From images of burnt animals in Australia to people left homeless after flooding much closer to home in Yorkshire, the global climate crisis is real and accelerating fast.  If you think about it, the Earth gives us everything for free yet what do we give back in return? It's time we all normalised giving to the source of our sustenance while remembering that our true nature IS nature. What else are we made of but rivers, plants and clouds?

Natural fabric dyeing is a great way to reconnect with your environment and it also offers a way to extend the life of your clothing and home textiles. By reviving old or second hand garments with plant dyes we can boycott planet-destroying fast fashion while learning more about plants and our local environment.
If you're interested in learning natural fabric dyeing this year, the new discount offer means you can choose how much you pay and how much you give back to the Earth. If you can afford to, give more than the suggested minimum donation but if you're on a lower income, donate just a little and get the big discount you need to become a natural dyer.