I've yet to write about the fact that I opened a new studio this summer (I will soon!) but am skipping ahead to share some new work using flowers harvested from the studio dye garden. Back in May I planted Dyer's Coreopsis, Dyer's Camomile, Sumac, Hollyhocks, Woad, Madder, Weld, Lady's Bedstraw, Angelica and Meadowsweet and 3 months later I got to use the first crop of flowers in an ecoprinting project.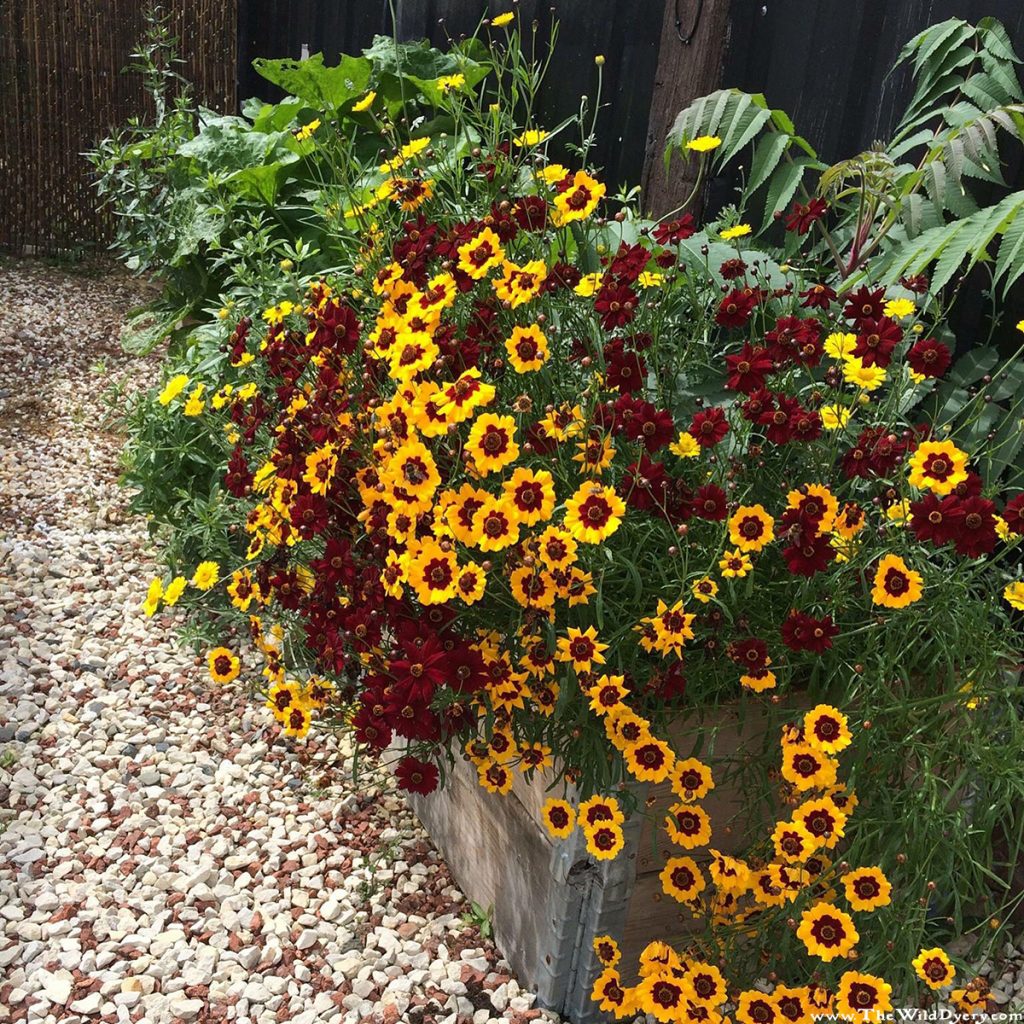 I'd dyed some silk scarves using shibori resist patterns and exhaust baths from my last Eco-Spectrum workshop and whilst they were lovely, like any pieces of textiles that sit still for too long, I felt compelled to mess with them some more! I went for a forage around my favourite part of the Wirral, Thurstaston and gathered some branches of Copper Beech, some magical Mugwort (which seems to be my totem plant lately) and some rich brown Dock seeds.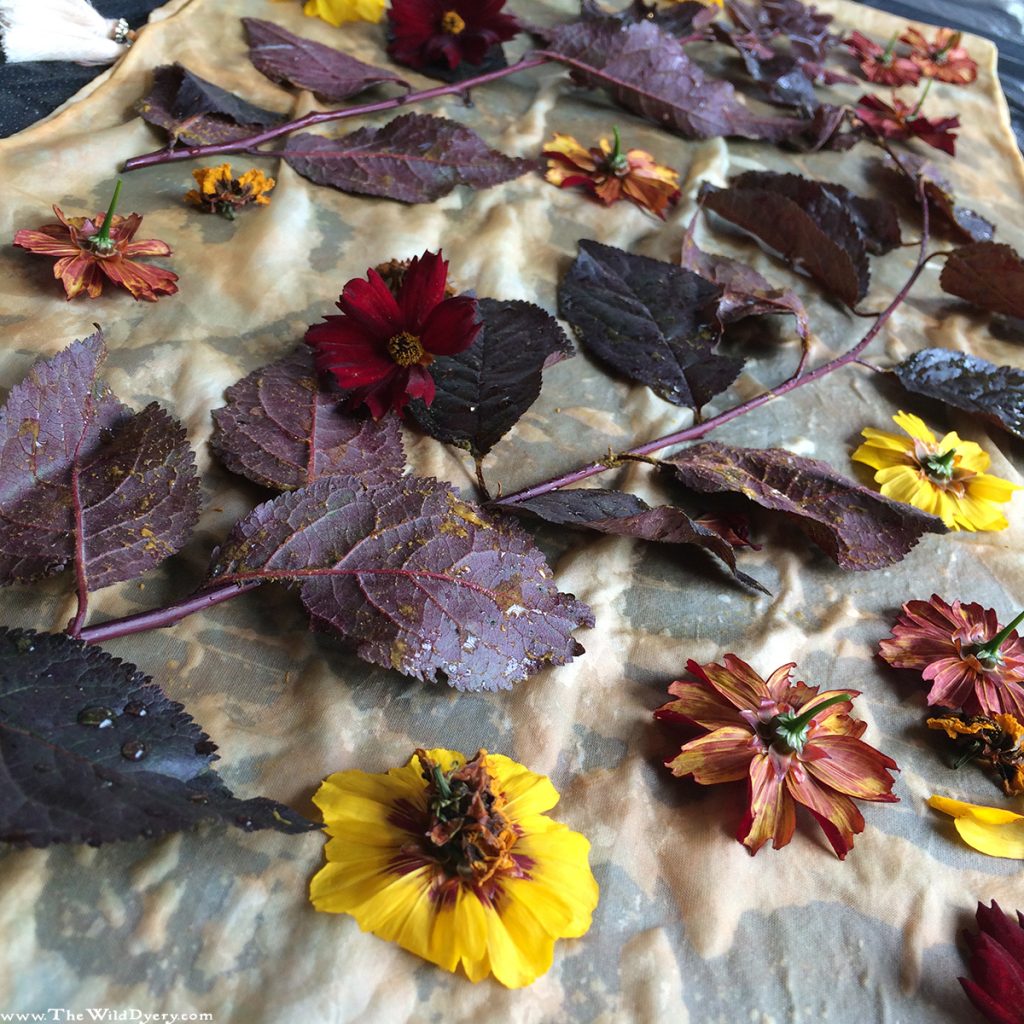 I'm not going to share my entire process because I make my living as a textile teacher and whilst these photos give lots of hints, there are some key ingredients which can make or break a strong eco print that I'll only share during my workshops. Suffice it to say that people have been pressing flowers for years and this works with similar principals on fabric.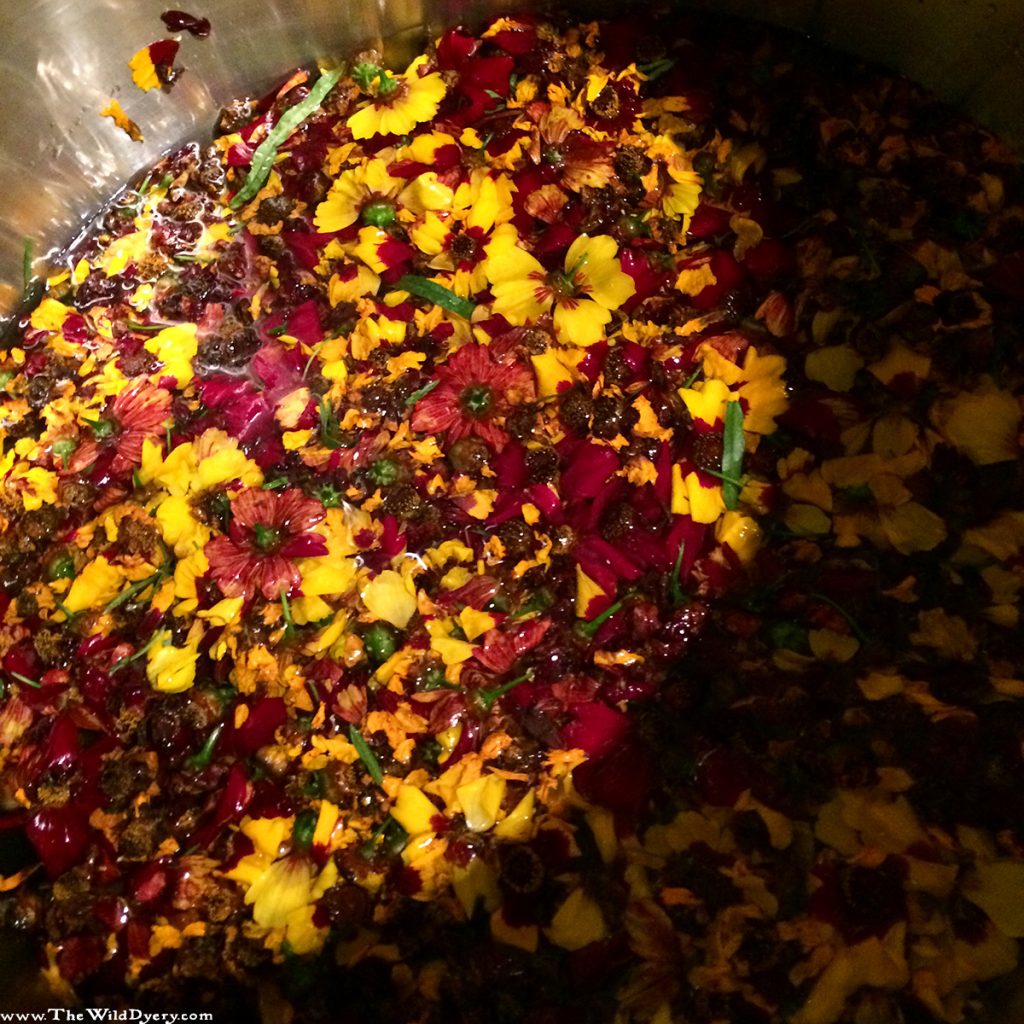 Summer is so fleeting in the UK and flowers so temporary that to record their beauty on wearable fabric is a really special treat both for me and the eventual owner of these one-off creations. Not only is the unique finger print, if you will, of each individual leaf and petal captured but as many native cultures believe, the consciousness and healing benefits of the plant are absorbed into the cloth too.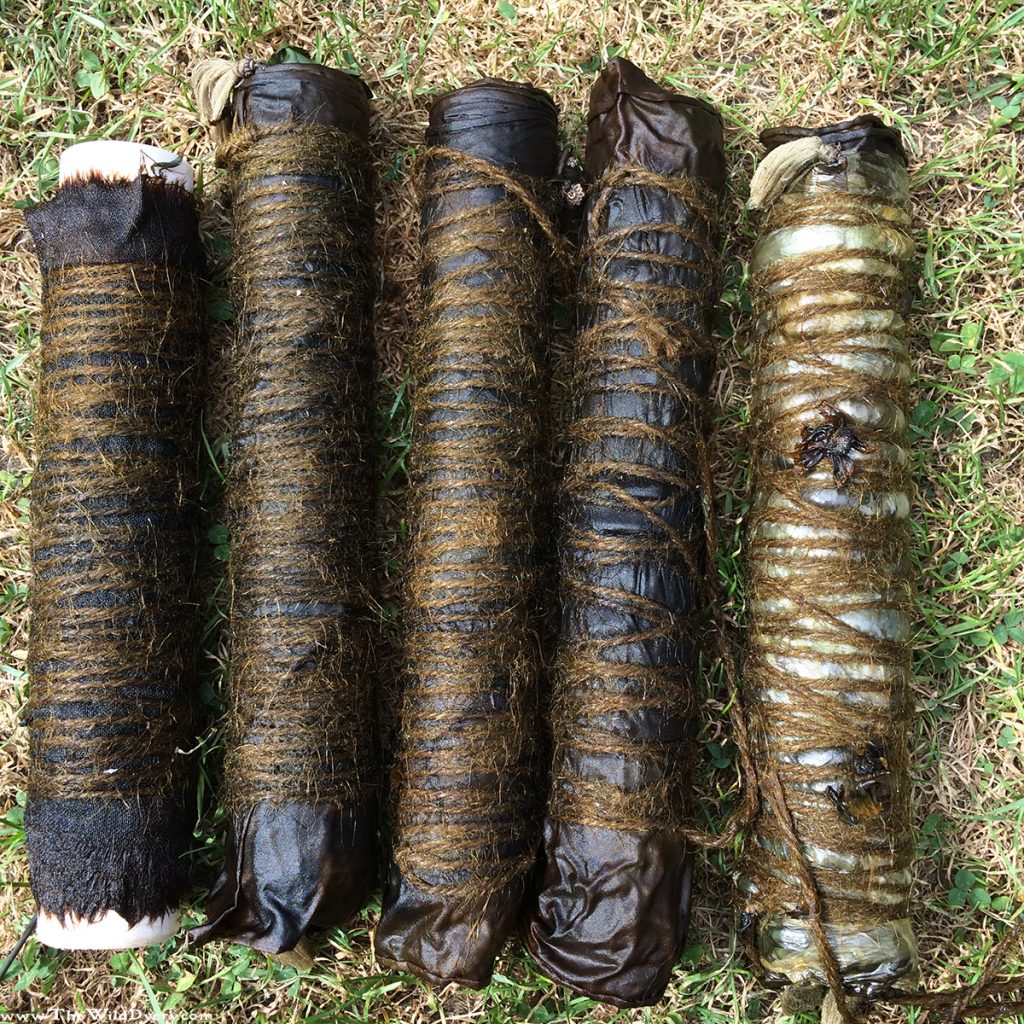 Above are the 5 scarves I bundled in the studio last Saturday. The huge blisters and cuts on my fingers will be a painful reminder to wear rubber gloves during the tying next time! I tied four silk and one wool gauze scarf with crocheted trim but the wool scarf took on too much dark brown and is a bit dingy for my liking. It's always a risk messing with perfectly lovely products but with the other four the gamble paid off.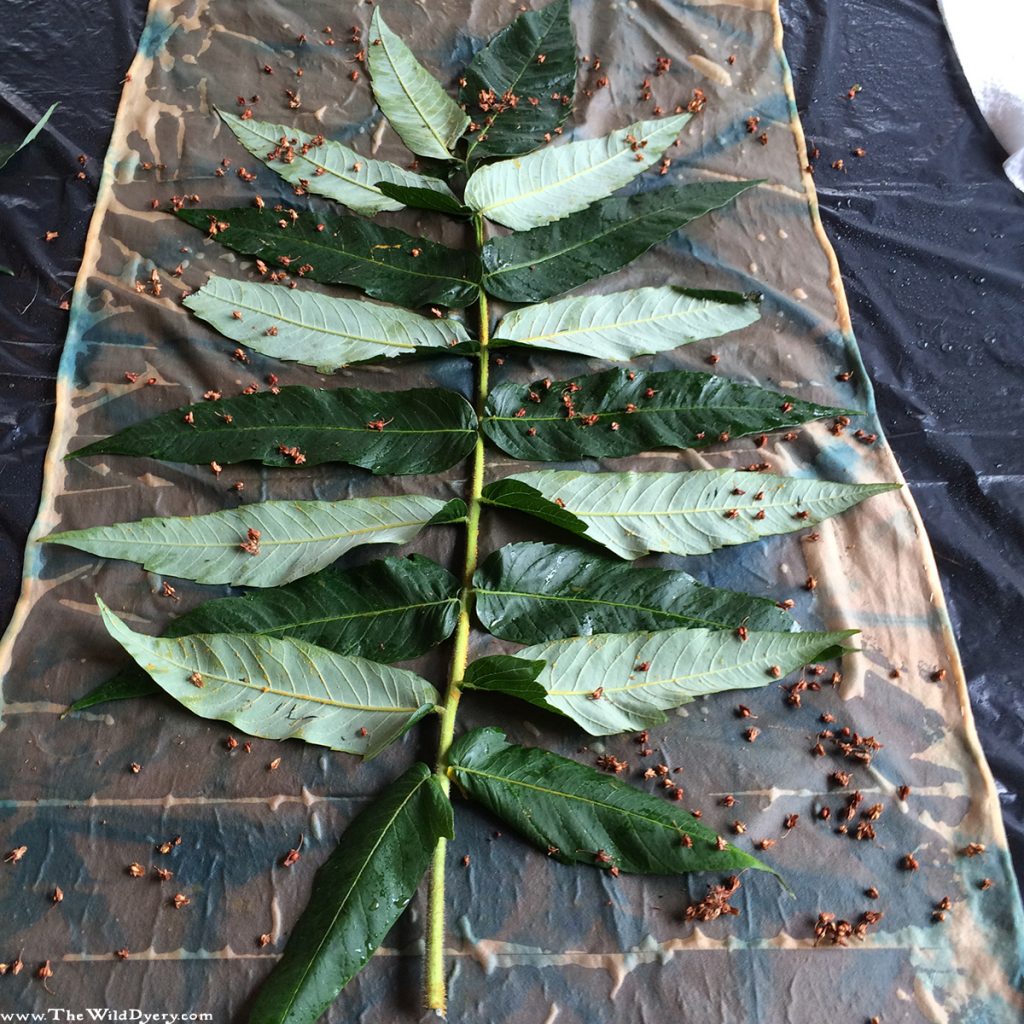 Sumac is a special tree in my family which has been planted in every house we've owned since my grandmother first passed an offshoot to my mother. All my friends have one of my Sumac trees so it was great to discover it's usefulness as both a mordant and dye. Above and below show the before and after pictures. Can you see the difference when the leaves are turned over?
Above is a close up detail of the crisp Sumac print from the scarf below. I folded the scarf in half so the design would mirror itself on either end. I made this hanger from a twig out of my garden and some wired twine.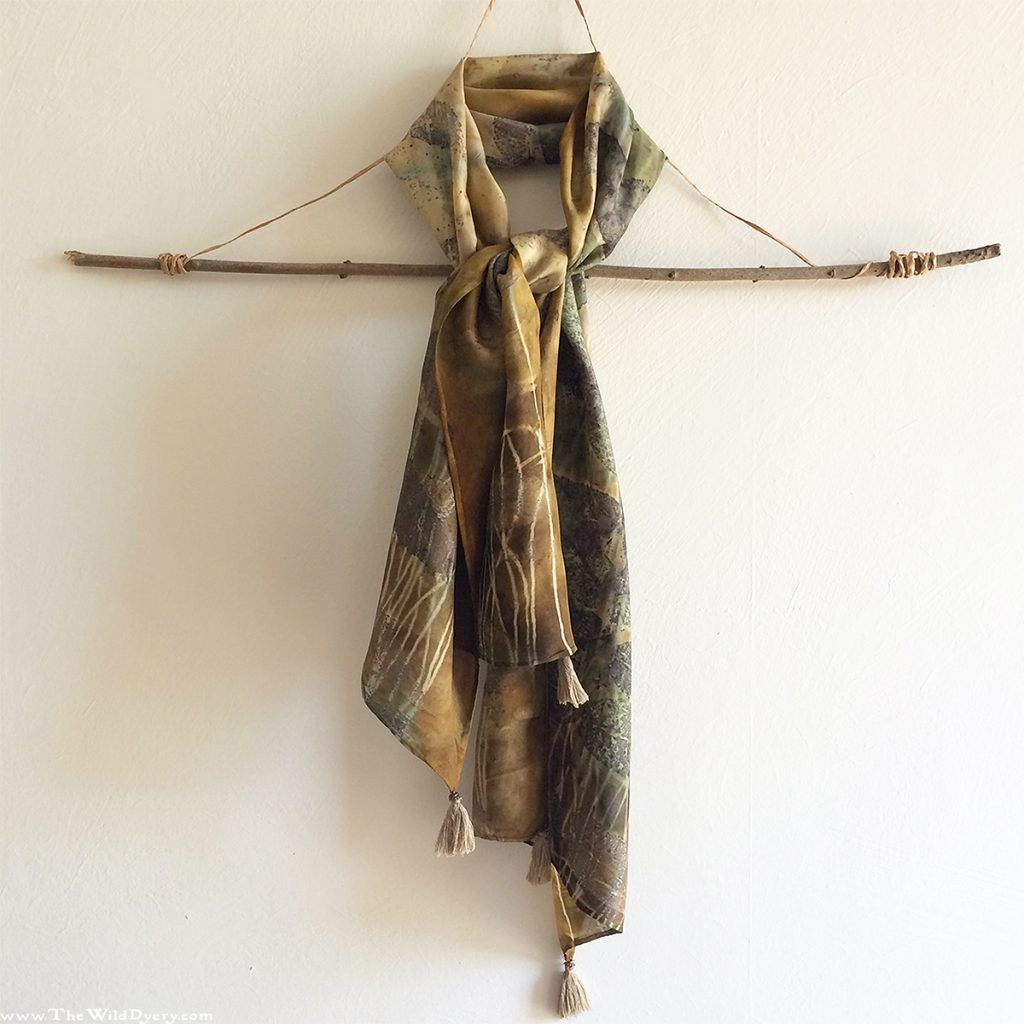 The scarf below is probably my favourite. I used Dyer's Coreopsis flowers from the dye garden and Copper Beech branches from my stroll to the Dungeon Woods in Thurstaston. The flower print below repeats along the scarf and each end differs due to the way I tied the bundle.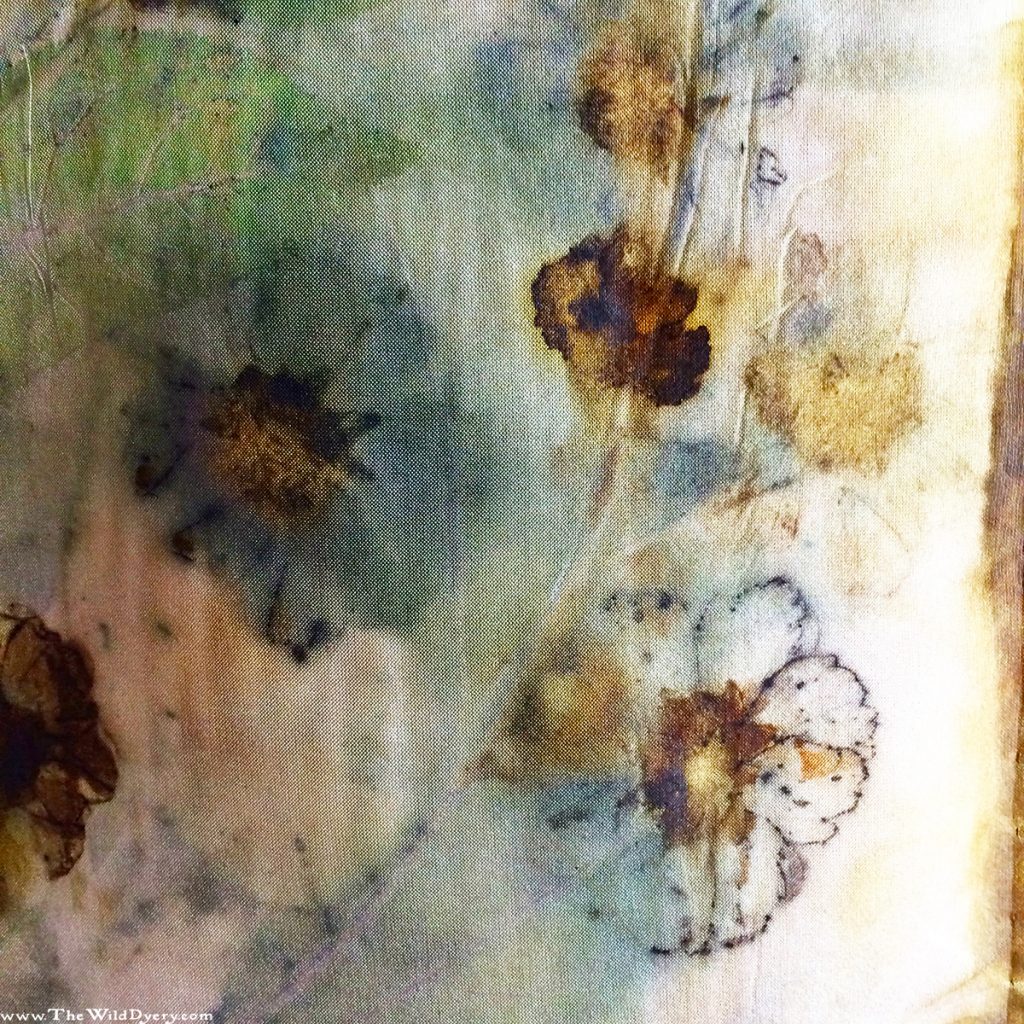 It's quite hard to do these scarves justice in a flat photograph as the colours really shimmer in daylight. Each scarf has a cotton tassel and antique metal bead on each corner. I'm not sure I'll keep using these tassels as I'd prefer silk due to the way cotton dyes but these certainly look rustic which compliments the camouflage style of the silk.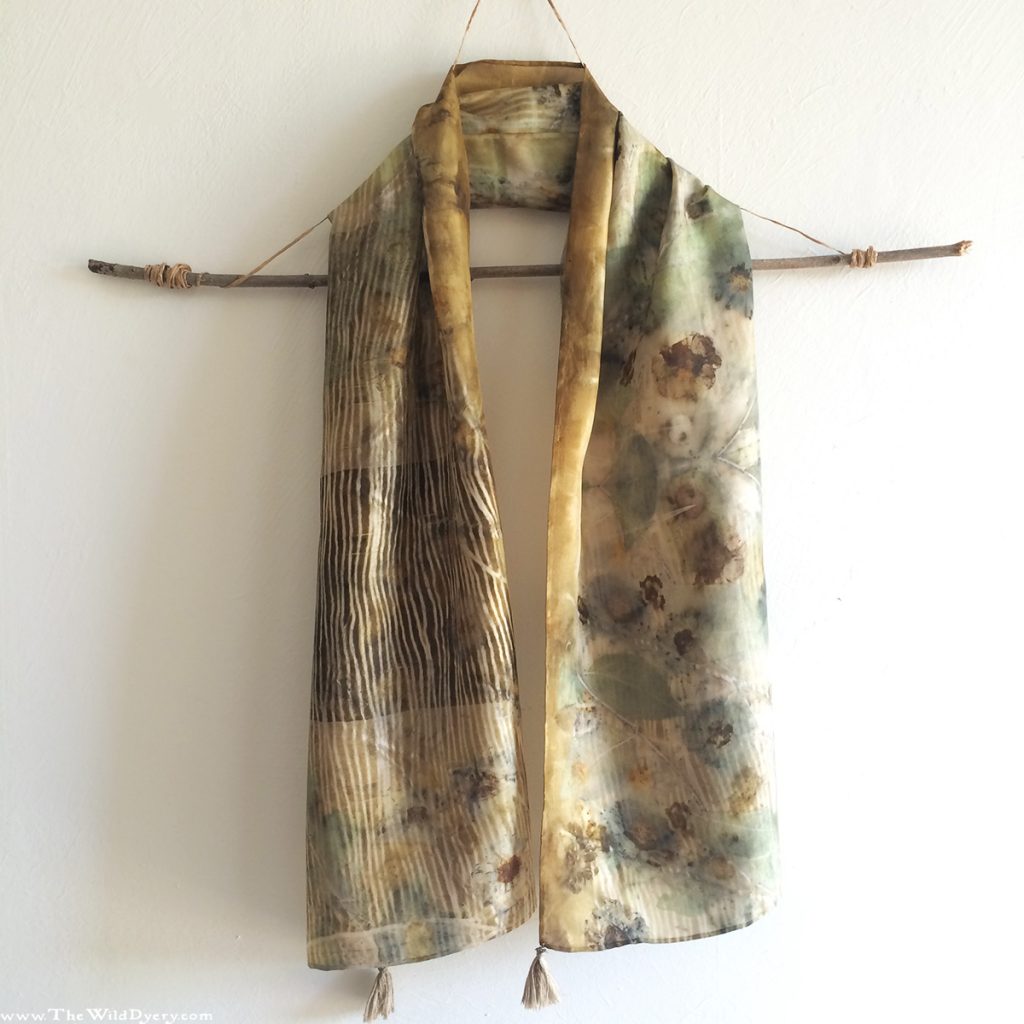 As I mentioned, all the scarves had been pre-dyed in either indigo, madder or weld which added interesting effects and shades to the mix. Below shows a scarf that had been dyed in indigo and weld before being eco printed with Dyer's Camomile flowers and single Copper Beech leaves.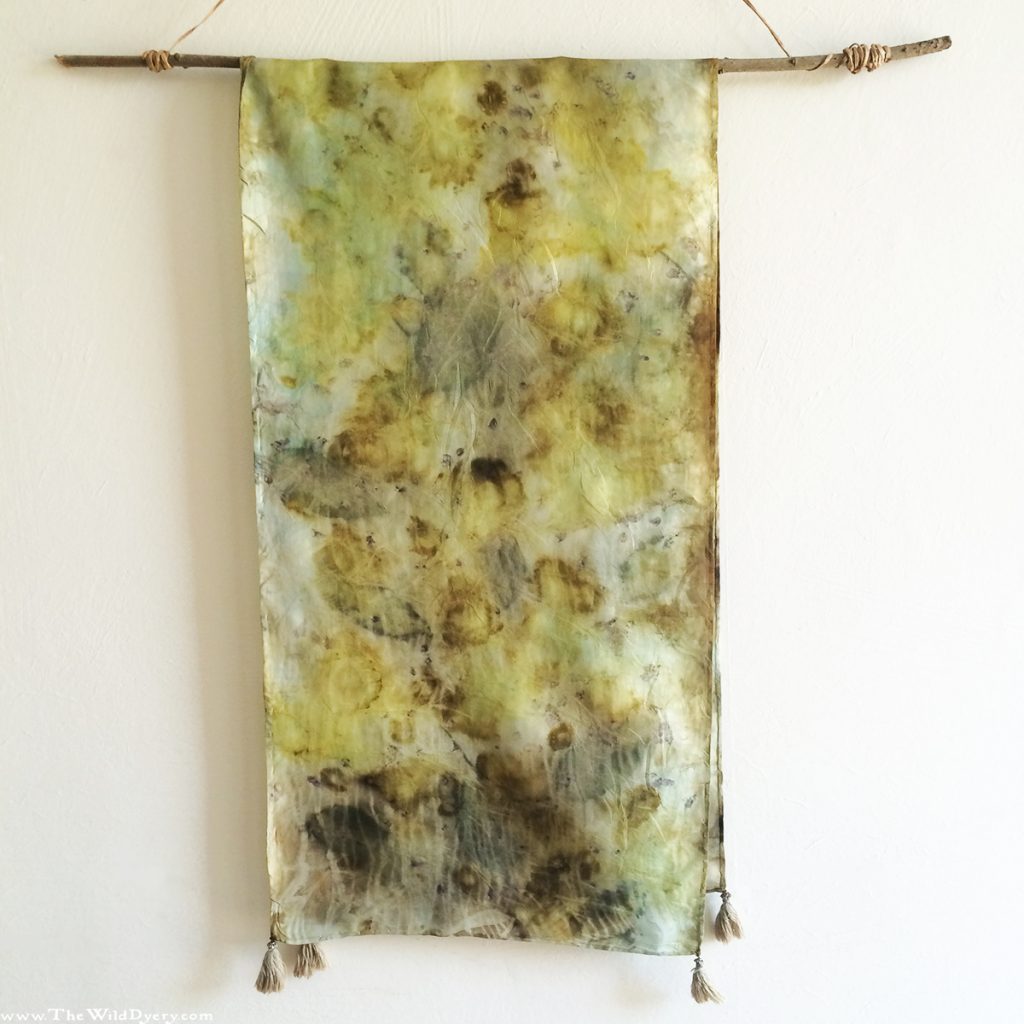 Camomile has calming qualities when ingested so I wonder whether wearing it could induce calm?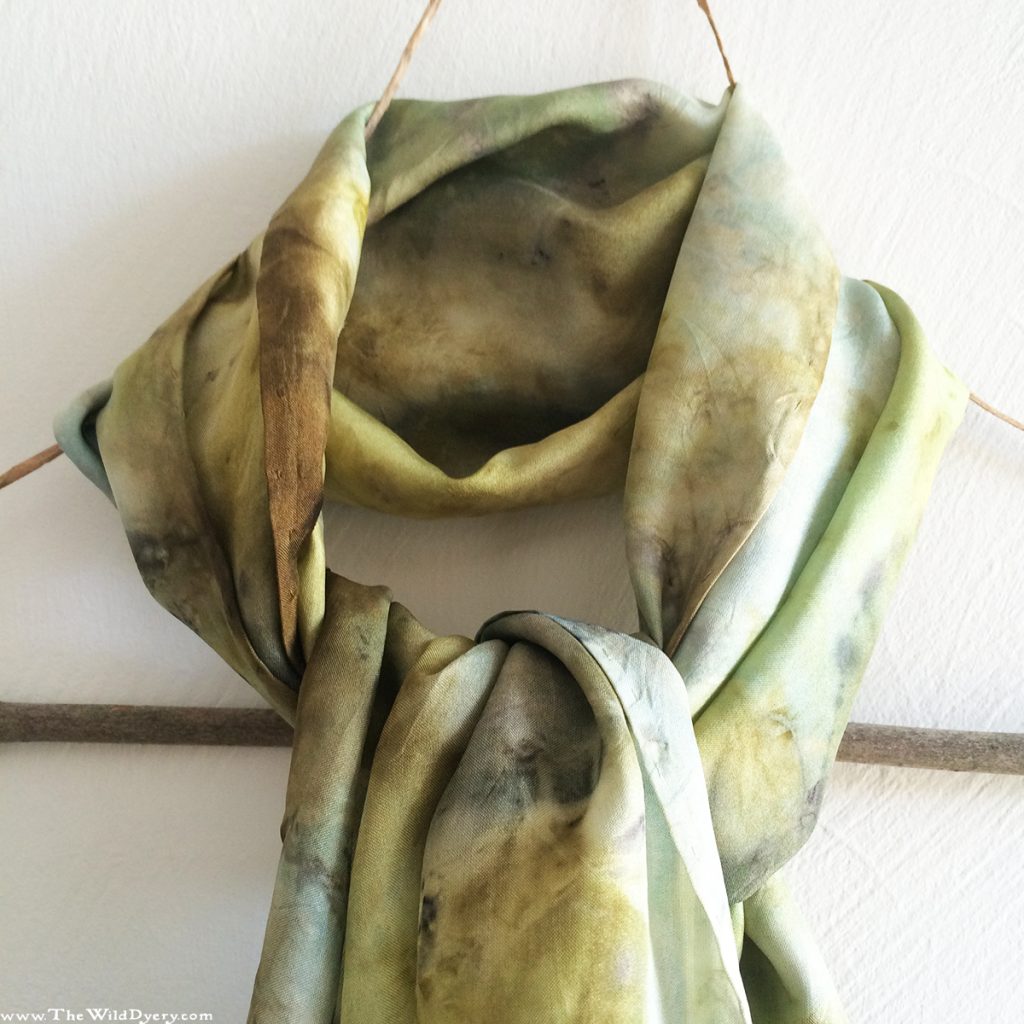 Below is another Sumac scarf this time using single leaves which when rolled overlapped to create some interesting effects. The green is really vivid and there's even hints of mauve in this scarf perhaps due to the base dye or some magickery I added during the bundling process. There are lots of secret ingredients you can add to shift colours. I'll tell all on my forthcoming 'Foraged Flora Eco Printing' workshop to the lucky 8 who secured a place. It is now fully booked but I will be running other events later this year and am developing both my 'Eco-Spectrum' and 'Eco-Printing' workshops into online e courses over the next 12 months so they are easily accessible worldwide.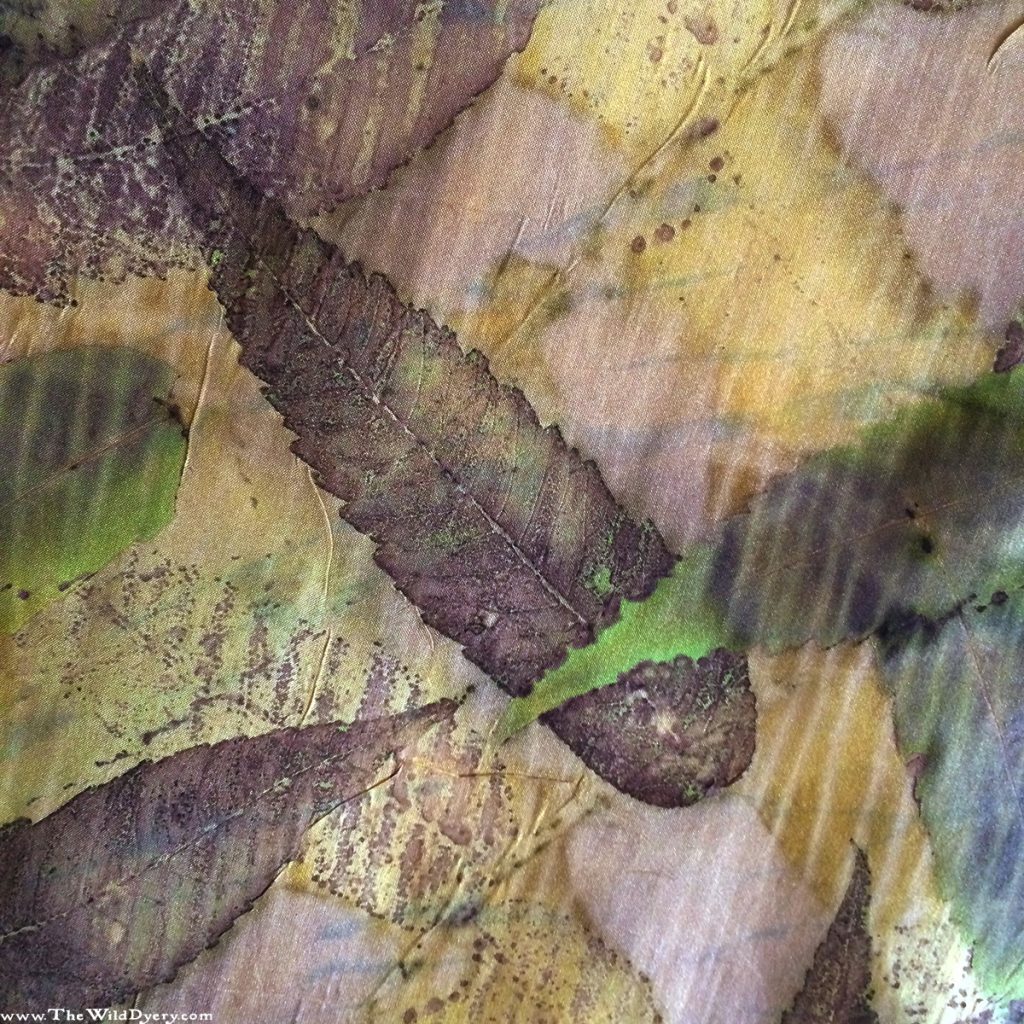 There's a really lovely variety of shades in this scarf. That's the beauty of using natural dyes, they complement each other so well.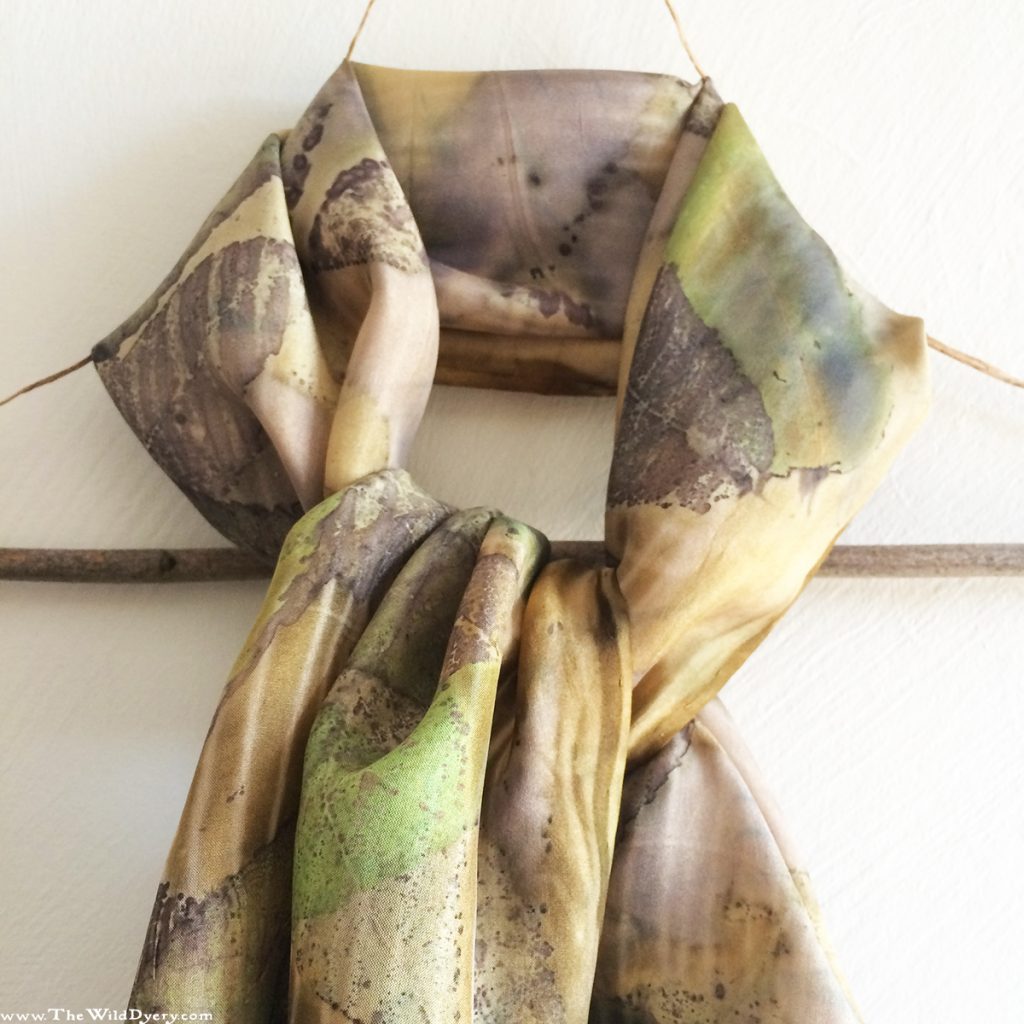 All four of the silk scarves are now available to buy in my shop.