OPTION 1: complete online training *discounted rate* CLOSED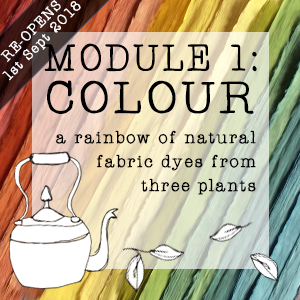 Registration re-opens 1st Sept 2018 

This is your chance to study a fascinating heritage craft from home whilst connected to a group of international enthusiasts all working through the course at the same time. This training is the first of its kind. You may find hobbyist dyers creating short video tutorials but to our knowledge, this is the only comprehensive online training in natural fabric dyeing taught by a qualified, professional textiles teacher. 
We believe this craft should be honoured and its ancient wisdom protected. Natural dyes have the potential to contribute towards a more environmentally sustainable future which could improve health and wellbeing but only if new students have access to quality tuition. Natural dyeing is experiencing a renaissance which is wonderful! However, it's important we ensure this popularity doesn't result in the dilution of accurate techniques and misinformation spread through the web of social media. This training offers the core skills practiced for centuries by our ancestors to create beautiful, lasting colours, prints and patterns on fabric.

course overview
This 12 week comprehensive introduction to natural fabric dyeing comprises 3 x 4 week modules that run once a year. This is a semi-live online training meaning the interactive content goes live in your private site on a daily basis, allowing you plenty of time to complete practical projects in between. It's inspiring and motivating to work along with a group of like-minded students but there's no pressure to complete tasks on time and you're also free to work at your own pace as you'll have access to the site for 6 months after the start date of each module.
Each day, you will login to your password protected site and find a new post that will go live at 9am (GMT). Posts will include inspirational interviews with industry professionals, video and written tutorials for practical projects, links to supplier resources and insider information about exciting techniques and tricks of the trade.
A great bonus of each course is your membership to an exclusive private members Facebook group where you can meet and network with like-minded creatives for inspiration and support.  You will get the most out of this experience by allowing yourself 1-2 hours per day to read, practice tasks, research and interact with your group.
Each module lasts 4 weeks and content is delivered 6 days a week therefore you get 24 days worth of tuition per module.
You can chose to study single modules but will gain the most benefit (financially and practically) by working through each module in sequence as they are designed to develop and deepen your knowledge and understanding of the subject systematically. You'll also be eligible for a substantial discount if your book more than one module at a time. 
Any questions? Visit each module page (links below) for more information or read our FAQS…
Our next course dates are:-
2018 Start Dates:
Module 1: Colour - Monday 5th Feb 2018 at 9am GMT
Module 2: Print - Monday 4th June 2018 at 9am GMT
Module 3: Pattern - Monday 1st Oct 2018 at 9am GMT