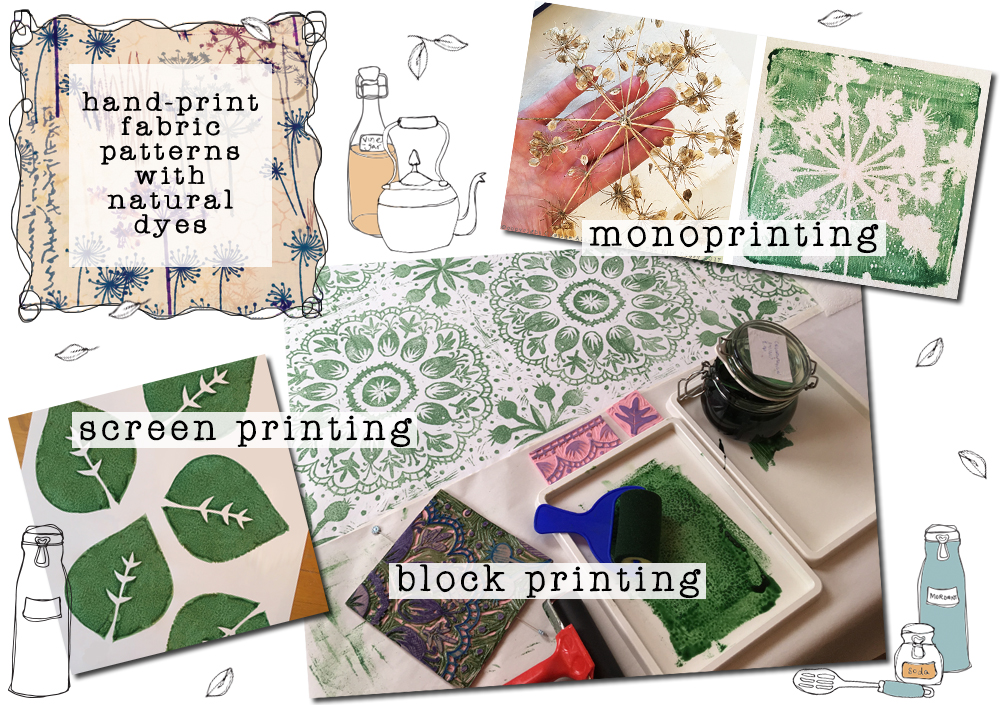 DATE: Saturday 10th November 2018
TIME: 10am – 4pm
VENUE: The Wild Dyery, Hoylake Parade Community Centre, 31 Hoyle Road, Hoylake, Wirral, CH47 3AG, U.K.
Natural dyes have been used for centuries to create intricate patterns on fabric. This heritage craft almost died out due to the introduction of synthetic colours and mechanisation during the Industrial Revolution. However, with global pollution reaching epidemic levels, this ancient skill is experiencing a renaissance.
In this one day workshop you will discover how to re-use and upcycle old textiles using natural dye pastes along with a variety of hand printing techniques. You'll mono print with foraged plants, create simple screen prints and use traditional Indian blocks, leaving with your own sustainable fabric wrapping cloths and papers.
Materials included in the workshop fee*:-
½ metre2 pre-scoured and pre-mordanted cotton
9 x A5 pre-scoured and pre-mordanted cotton samples
3 x sheets of A2 paper
use of multiple dye pastes
Equipment not included that you will need to bring with you*:-
apron
rubber gloves
foraged leaves, flowers etc.
old blanket or towel to cushion work surface
bin bag to cover work surface
masking/sellotape
scissors
3 x old, clean jam jars (or similar)3 x teaspoons
*provisional materials lists subject to change
Purchase your ticket securely using PayPal below…